Domestic Abuse, Sexual Exploitation and Consent - Key Stage 5

Resources, Guidance and Articles
Resources
Consent: The Crown Prosecution Service and other agencies discuss the concept of consent in the context of sexual relationships.
Without Consent it's Rape - a short film which shows the devastating effect rape can have on not just the victim, but friends, family and the offender.
Disrespect Nobody - What is Consent?
Give and Get for secondary schools
Mapping The Maze - Specific services for women affected by substance misuse, mental distress, homelessness, involvement in offending and more complex needs services can be found on this map. Where possible, the exact location of the service has been used. Where this was not safe, the service has been mapped to the main council office in the local authority area.
Guidance
Sexual harassment in schools: A guide for teachers Are we doing enough to challenge sexist comments? Are we making gender based assumptions? As teachers, are we creating a safe classroom by asking tough questions? Sexual harassment and violence are rooted in rigid and binary gender norms. These norms cause under-representation of girls studying physics at A-level and boys taking up careers in nursing. These norms mean that girls get teased for playing sport, an allegedly "masculine" pursuit. These same norms feed into the idea that girls' bodies are inherently sexual and enticing to boys and men, who cannot control their desires.
Statement from CPS RE: Male Victims of DASV
This statement outline the CPS support for male victims of domestic abuse, rape, sexual offences, stalking, forced marriage, honour-based violence, child abuse, prostitution, human trafficking focusing on sexual exploitation, pornography and obscenity. Click on the title above for the full article.
UK SAYS NO MORE
Gloucestershire Campaign
During the 16 days of Action Against Gender-Based Violence; 25th November-10th December 2017; Gloucestershire will be supporting the UK SAYS NO MORE campaign to raise awareness of Domestic Abuse and Sexual Violence.
The campaign aims to raise awareness of domestic abuse and sexual violence; eradicating stigma and shame, and starting conversations within the community. Originally launched in 2013, the campaign aims to raise public awareness and engage bystanders in ending domestic abuse and sexual violence.
Locally the campaign supports the message that Gloucestershire takes a stand against Domestic Abuse and Sexual Violence; we have a zero tolerance approach to DASV and it is everyone's responsibility to keep people safe.
How to get involved:
Print the UK SAYS NO MORE Poster Pledge
Fill in an excuse/myth linked to DASV that you wish to raise awareness of, such as 'what was she wearing'/'Why didn't she tell anyone'.
Strike a pose! Take a picture of you holding the poster pledge
Upload your photo to social media: Facebook/ Twitter/ Instagram, using:
@Glos_Police #GLOSSAYSNOMORE
Pledges will also be shared to the UK SAYS NO MORE social media links
Time to Listen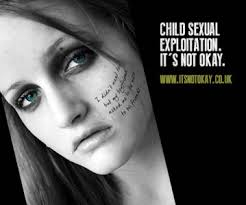 Click on the image to read the full report
'Time to listen' - a joined up response to child sexual exploitation and missing children - September 2016
Tackling child sexual exploitation can be done. The five joint targeted area inspections (JTAIs) have found evidence of progress being made in many local areas, which is resulting in better support for children at risk of, or subject to, child sexual exploitation.
There is, however, no room for complacency. More can be done to ensure that all children and young people receive consistently good support from all agencies and in
all areas. Poor practice by some professionals and some key agencies means that some children at risk of exploitation still do not get the response they need quickly enough.
Responding effectively to child sexual exploitation requires all partners to take responsibility for their own work and to work collaboratively with each other.
Promote www.glostakeastand.com to ensure the community can seek information about support services in Gloucestershire.
What Is Gaslighting? Gaslighting Is A Type Of Psychological Abuse In Which The Abuser Denies The Victim's Reality. Click here to read more (13/01/20)

3rd February - 9th February 2020
HopeHouse Sexual Assault Referral Centre - Male Poster
We offer medical care, emotional support, and practical help and advice to anyone who has been raped or sexually assaulted. Ring 300 421 8400 (06/02/2020)
HopeHouse Sexual Assault Referral Centre - Female Poster
It's OK to tell someone, never give up hope. www.hopehousesarc.nhs.uk Ring 033 421 8400
5 days, 5 years 50 years. It's never too late to get the support you deserve. We're here for you
Human trafficking and modern slavery are thought to be amongst the most widespread crimes in the world, affecting millions of the men, women and children each day. Resources for use with young people, covering what human trafficking is, how it affects your life and the lives of others, and what you can do to combat it. Broken down into simpler terms, this means human trafficking is made up of three elements:
Movement or recruitment by
Deception of coercion for
The purpose of exploitation
To read more click on the image above.
Case Studies
Kayleigh's Love Story - Kayleigh's Love Story is a film highlighting the last 13 days of the life of 15 year old Kayleigh Haywood. The Leicestershire schoolgirl was groomed online by Luke Harlow, a man she had never met, before being raped and murdered by his next door neighbour Stephen Beadman.
The film has been made to serve as a warning to children and adults of the dangers of grooming and sexual exploitation following Kayleigh's tragic death in November 2015.
Articles
24/08/16 New York Times - Will the deaths of these 5 girls from FGM spark a global wake-up call? Girls have been dying as a result of female genital mutilation (FGM) since its origin several thousand years ago. However, increased awareness of the issue and better sharing of information has meant that the last year has seen more and more of these cases come to light.
19/07/17 Blasting News - In a world full of threats, how far can we go to protect ourselves?
A woman took a photograph of a man's license plate before getting into his car. He wasn't happy. He tweeted, that before getting into his car, his date took a photograph of his #license plate to text to her friends. He stated that he left her after this happened. The woman's precautions, ensuring that her friend would be able to trace the car should she go missing, offended him enough to walk away!
Winter 2016 - Domestic Abuse and Sexual Violence Briefing Sheet - This briefing sheet is produced with the support of the DASV Implementation Group.
Our Community Against Domestic Abuse & Sexual Violence - 16 Days of Action

Disrespect Nobody Campaign
The aim of the campaign is to prevent young people aged 12-18 years old from becoming perpetrators and victims of abusive relationships.
For 2018 the focus of the campaign will be consent, sexting and personal boundaries.
Click here to view the Disrespect Nobody website
Click here to view the Disrespect Nobody Campaign with campaign posters - also available on Schoolsnet
Topics covered:
Honour-based violence, consent, emotional abuse, FGM, financial abuse, forced marriage, LGB&T, physical abuse, porn, rape, relational abuse, sexting, sexual assault.
Refuge charity: Chilling lockdown short film - Surfaces
On the launch of Surfaces, Sandra Horley CBE, Chief Executive of Refuge said, "This short film is a stark reminder of what lockdown has been like, and continues to be like, for victims of domestic abuse. As restrictions slowly lift and an end to lockdown is in sight, it's important to remember women across the country will continue to experience abuse. (17/06/2020)
How to help a friend experiencing Domestic Abuse
Safety advice for young people on how to help a friend who may be experiencing domestic abuse or teenage relationship abuse created by STREET.
New helpline for employers - Guidance for developing a DASV policy
Click here on guidance for organisations on producing a domestic abuse and sexual violence policy
Was the information on this page helpful?