Mental Health - Key Stage 5
Guidance, Resources and Articles
Stroud Local Evaluation of the Gloucestershire Mental Health Services and Schools Link Pilot - Final report to NHS Gloucestershire CCG
My 'Mental Health Manifesto' for Britain's Schoolchildren - an interesting article by the Government's first mental health champion.
Resources
B-Eat - Beating Eating Disorders - Facebook page and message boards for all aspects of eating disorders
The Little Book of Mental Health Life Hacks - how to look after your own mental health. Written by the Somerset Young Mental Health Champions
Mental Health Foundation - How to look after your mental health
Mental Health First Aid England - An educational course which teaches people how to identify, understand and help a person who may be developing a mental health issue.
MindEd - e-learning to support young healthy minds
National Centre for Eating Disorders - Effective help and treatment for sufferers
Public Health England - Measuring and monitoring children and young people's mental wellbeing: A toolkit for schools and colleges
Royal College of Psychiatrists - Improving the lives of people with mental illness
Research Digest - Mindfulness programme
Brainwave evidence hints at benefits from a school mindfulness programme.
Recent studies of mindfulness schools programmes for teenagers have produced mixed results, with some failing to find benefits, even when extra features were added to try to make them more effective. But given the demonstrated benefits of mindfulness training on stress and wellbeing in adults – and the urgent need to find ways to reduce stress and prevent depression in teenagers – it's not surprising that researchers are pursuing work in the area. Click hear to read the full report
Taking CARE To Promote Mental Health in Schools and Colleges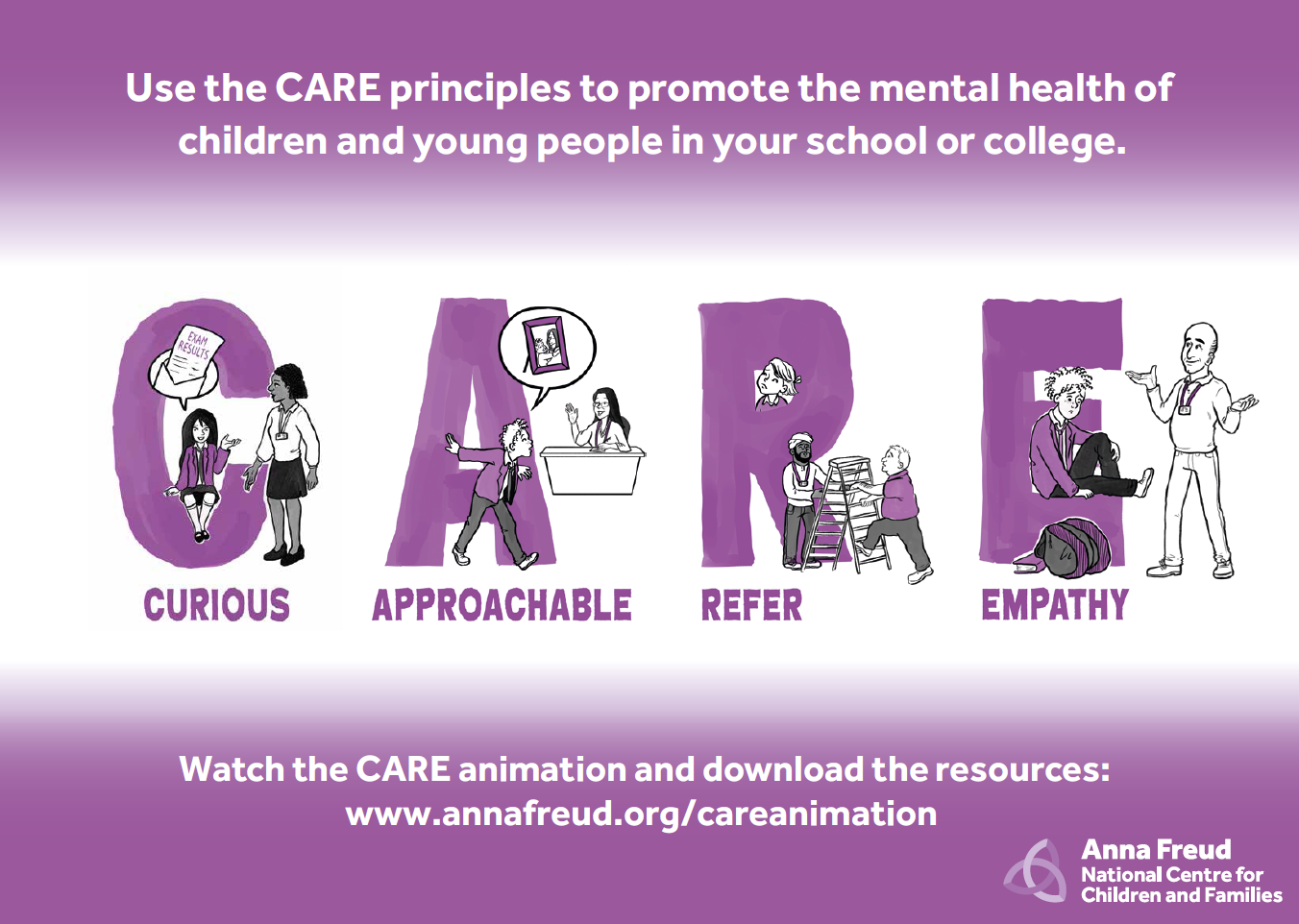 The CARE animation is a short animation for all school and college staff that recognises the importance of supporting children and young people's mental health in schools and colleges, and offers a simple principle for staff to remember; CARE. (Curious, Approachable, Refer, Empathy). Click on link (24/01/2020)
Click here for a site that finds near be mental health services 27/01/20
Mee Two Handbook - A 'Mental Help' Handbook aimed at teenagers, available for free to secondary schools. (27/01/20)
Help children and young people talk about loneliness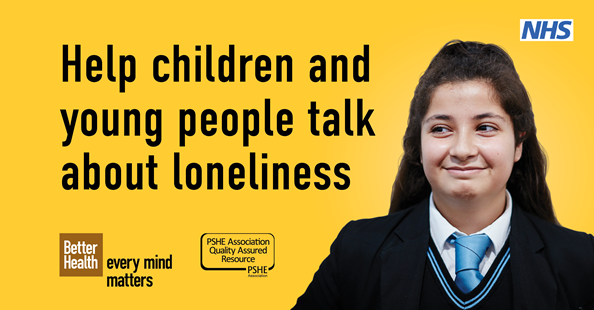 A recent national survey of children and young people showed that one in ten 11 to 22 year olds reported often or always feeling lonely.

New to our schools programme, NHS approved Every Mind Matters Building connections resources aim to encourage young people in Year 6, KS3 and KS4 to discuss loneliness and provide them with self-care techniques they can use when they're feeling lonely.

To support teacher's on mental health, the Every Mind Matters tool is available on the School Zone to provide support on simple, practical advice for a healthier mind. (27.11.2020)
Self Harm
The Mighty - How to explain why you self-harm to people who don't understand
Gloucestershire Self Harm Helpline - provides a safe, supportive, non-judgmental and informative space for people who self harm, their friends, families and carers.
What not to do if a child is self harming
Suicide
The Samaritans - Support available around the clock for anyone
Diseases of the body garner so much sympathy- but not the diseases of the brain. Why is that?With dazzling energy and humour, Ruby Wax- diagnosed a decade ago with clinical depression, urges us to put an end to the stigma of mental illness
Articles
05/05/17 Refinery29 - How To React When Your Friend Is Talking About Suicide With its gripping story, visceral emotions and penchant for stirring up controversy, 13 Reasons Why has also instigated several difficult discussions about suicide. So what can you do to help friends who talk about hurting themselves? A lot, it turns out.
23/09/17 The Guardian - How can we improve the mental health of girls and women? Girls and women are excelling in many fields, but figures show increased anxiety, depression, eating disorders and self-harm. The modern world poses many challenges for girls such as promoting fierce competition and a 'have it all' culture.
Mental Health Break poster
Please click on poster for printable version
Tagged under: mental health, mental illness, stigma, eating disorders, bereavement, self harm, mindfulness, stress well being, loneliness
Was the information on this page helpful?