Online Safety - Key Stage 3&4
Guidance, Resources and Articles
Talk, Explore, Agree, Manage - 4 Simple Steps to Staying Safe Online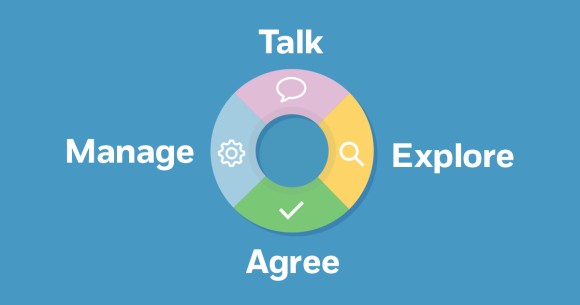 New shoes, new phones... new social networks? A new school term can mean kids are introduced to new sites and apps, so it's important to stay up-to-date with their favourites and to keep an eye on security settings.
Please visit NSPCC to find tips on keeping children safe online
Murder Games: The Life and Death of Breck Bednar
Spotting the Signs - Student Notes
Spotting the Signs - Teacher Notes
Am I Safe Online? - Student Notes
Am I Safe Online? - Teacher Notes
UK Council for Children Internet Safety (UKCCIS) - Sexting in schools and colleges - Responding to incidents and safeguarding young people (pdf)
Social Media harms moral development, parents say - Parents are concerned about the effects of social media on their children's character. A majority of parents in the UK believe social media harms their children's moral development, a survey has suggested.
British Teenagers Among World's Most Extreme Internet Users
Leading thinktank warns that heavy internet use can have damaging consequences but says educating teenagers is more effective than limiting access. More than one in three British 15 year-olds are "extreme internet users" who spend at least six hours a day online. These same users are more likely to be bullied. Research also highlights the importance of equipping young people with the skills that help them counteract the emerging risks.
Child 'revenge porn': What you need to know
Childnet International have teamed up with a range of experts and young people to create these resources and guidance - Cyberbullying Guidance - Cyberbullying: Understand, Prevent and Respond
A Practical online safety PSHE toolkit with films and lesson plans to explore online issues with pupils ages 11-14 years old. A PSHE Association Quality-Assured Resource from Childnet International - Crossing the Line: PSHE toolkit
How Using Social Media Affects Teenagers
NSPCC - Pokémon Go: A parent's guide - Tips and advice for keeping children safe on Pokémon Go
Presentation highlighting issue of Webcam Blackmail
Zipit App from Childline - If people are pressured into sending pictures of themselves this app provides a number of humorous pictures sending a clear message to the requester.
Social media and young people's mental health and wellbeing
RSPH and the Young Health Movement have published a new report, #StatusOfMind, examining the positive and negative effects of social media on young people's health.
The report includes a league table of social media platforms according to their impact on young people's mental health. YouTube tops the table as the most positive with Instagram and Snapchat coming out as the most detrimental to young people's mental health and wellbeing.
Click on the image to access the website and further resources.