Welcome to Gloucestershire Healthy Living and Learning
Healthy children do better in learning and in life. The aim of Gloucestershire Healthy Living and Learning (GHLL) is to help children and young people achieve their full potential and lead long, healthy, happy lives. Working with GHLL will enable schools and colleges to support children and young people to make positive choices to improve their physical, emotional and mental wellbeing.
GHLL use children and young peoples responses from a variety of surveys, including the 2020 University of Oxford Lockdown (OXWELL) Survey, Transitions Moves Survey for Years 6 2020, Online Pupil Survey (2008 -2018) and the Pupil Wellbeing Survey 2020 and 2022 to identify and address developing needs and trends.
Gloucestershire Healthy Living and Learning encompasses aspects of both the "Healthy Schools" and "Healthy FE" as well as Mental Health Champions Award to meet the needs of all children and young people across the county.
Through GHLL, schools/settings can work towards accreditation and receive a date plate to display on their plaque

Leading Teachers, funded by Public Health, are allocated to each school and can offer support to improve outcomes for our most vulnerable children and young people within the county. To find out who your Leading Teacher is, please contact us via the email address ghll@gloucestershire.gov.uk. The Leading Teachers will support schools and colleges to complete the Planning and Reporting tool to demonstrate the impact of Healthy Living and Learning in Gloucestershire.
What is GHLL?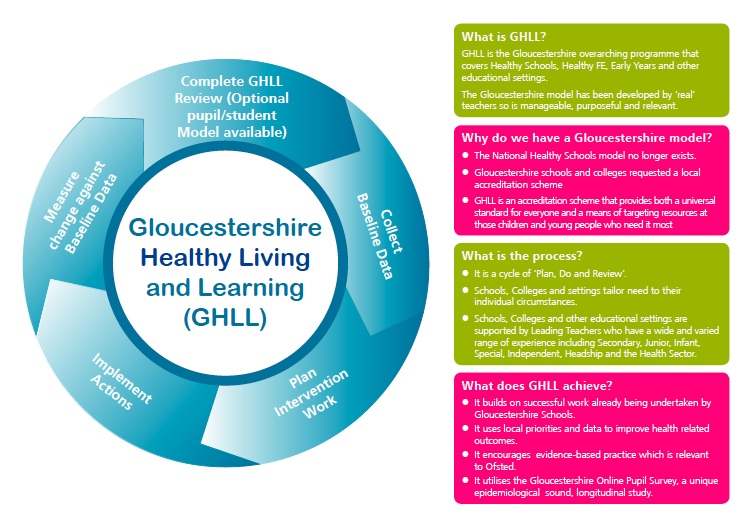 Tagged under: GHLL, Leading teachers, lead teachers, surveys, survey
Was the information on this page helpful?