New scheme to provide FREE period products to Schools & Colleges
DfE has just launched a new scheme to provide free period products for all schools and colleges.
There is a wide range of products available for schools and colleges to select from, including sustainable and eco-friendly products. Once products are delivered, it will be up to school and college leaders to decide how they make products available to learners, in such a way that maximises support and minimises stigma.
More information about the scheme can be found here:
https://www.gov.uk/government/news/free-period-products-for-all-schools-and-colleges
Sexual Violence awareness week 3rd Feb - 9th Feb 2020
Share across social media with the hashtags – #itsnotok #sexualviolenceawareness2020 #OurCommunityAgainstDASV @GlosTakeaStand
Happiness Calendar January 2020
Action for Happiness - Our monthly calendars are packed with actions you can take to help create a happier and kinder world. Click the calendar. (09/01/20)
BlueIce app
BlueIce is an evidenced-based app to help young people manage their emotions and reduce urges to self-harm.
It includes a mood diary, a toolbox of evidence-based techniques to reduce distress and automatic routing to emergency numbers if urges to harm continue.
Scrub Up On Science
BRAND NEW COMPETITION FOR 2020 IS COMING SOON
Use your knowledge and skills to get creative with the science behind cosmetic and personal care products
Look out for further information (Dec19)
Free online suicide prevention training
Just to remind you that we're promoting the free online suicide prevention training, put together by the Zero Suicide Alliance. The training, which is accessible to all, takes about 20 minutes to complete and shows you the signs to lookout for if someone is struggling, how to talk to them about this, and how to keep them safe.
You can access the training here - www.bit.ly/zsa-training.
For a limited time, as a way to encourage as many people as possible to do the training, we're offering a free drink and snack from participating community cafes in the county, upon presentation of either a photo or print off of the completion page. For more information, including the list of all cafes participating in this promotion, please visit here - http://bit.ly/zsa-ts-and-cs.
Just About Coping
We are excited to bring you the brand new MHFA England podcast, Just About Coping!
What is it about?
Just About Coping is an exploratory podcast looking at the future of mental health and wellbeing. I've been lucky enough to be joined by a fantastic range of guests to discuss their lived experiences, passions, latest projects, and to try and answer the question: how can we create a world where everyone is coping? I hope the podcast will explore what we can do both as individuals and as a community to build a positive culture around mental health, spread awareness, tackle stigma, and make mental health a normal part of everyday conversation. You can listen to the trailer for an introduction to the podcast and our first episode featuring the fascinating and utterly unique Ruby Wax; mental health campaigner, performer, comedian, and author.
Where can I listen?
How can I get involved?
We'd love for you to share your support and let us know you'll be listening with the hashtag #JACPodcast. Over the coming weeks we'll hear from activist Alexander Leon, TV medic Dr Ranj, stress and burnout expert Tony Piper, campaigner and writer Jonny Benjamin, and Lady Phyll, Co-Founder of UK Black Pride. You can subscribe wherever you get your podcasts to ensure you don't miss out. Over the course of the series, we hope you'll join us on our journey and imagine together what a mentally healthy world might look like. Happy listening!
Campaigners programme for disabled LGBTQ+ young people
Applications are now open for Stonewall's FREE campaigners programme for disabled LGBTQ+ young people, aged 16 to 25. Thanks to funding from Comic Relief, all costs relating to the programme are covered including all travel, food and accommodation. We can also cover costs for a personal assistant/carer.
The campaigning residential will be held between 6 – 9 January 2020 at a residential venue in the East Midlands that specialises in delivering programmes to, and hosting events for, young people with specific access needs. For full details click on the link above.
FREE Training - Gender, Indentity & Sexual Orientation
FREE TRAINING
For professionals working in Gloucestershire schools/colleges. 25th February 2020 at Gloucester Resource Centre, Alfred Street, GL1 4DF
What does it mean to be trans, gender neutral or an MSM? We invite you to explore gender fluidity and sexual orientation with us including the impact discrimination and ignorance can have on people's lives.
To book a place on this FREE Training: please email Naomi.Cooper@eddystone.org.uk
Suicide Prevention Advice
GLOSRASAC: Reclaim the Night
GLOSRASAC: (Gloucestershire rape and sexual abuse centre) invite you to join them on a march to 'Reclaim The Night', in protest of sexual harassment and violence against women and girls. Meet at Montpellier Gardens in Cheltenham on Friday 22nd November at 18.00. The walk finishes at The Brewery Quarter. ALL WELCOME. Please bring a torch.
Mental Health Champion Accreditation
Are you ready to go for the MHC Award?
Do you currently hold the GHLL accreditation?
Is there a member of staff or a group of staff in your school responsible for mental health?
Does your school's senior leadership team promote positive mental health for the whole school community?
Is emotional health and wellbeing a priority within your school, e.g. a part of your SDP or similar documentation?
Do you have a nominated school governor responsible for EHWB?
Have a significant number of your staff undergone Mental Health First Aid Training?
If you have answered yes to all of the above, then you are ready for the next steps… (click here) to take you through to the MH page with all the details and steps
Share the Orange
Samuel L Jackson and Bryan Cranson talk about Alzheimers
It's World Mental Health Day today!
The World Health Organisation recognises World Mental Health Day on 10th October every year..
At GHLL we encourage people to look after their mental health all year round, but today is a great opportunity
to consider the different ways that we can boost our wellbeing and start a conversation about mental health.
The Daily Mile - Big Day - 18th October 2019
Friday 18th October 2019 is Gloucestershire's Big Day. Schools will set a new record for the largest number of children doing The Daily Mile on the same day in Gloucestershire. You just need to sign up your school to take part. Click here to sign up - activegloucestershire.org
Therapeutic Storywriting
This 3 day course is primarily aimed at KS1 & KS2. It is for SENCos, SEN teachers, learning mentors, teaching assistants, school counsellors and educational psychologists supporting pupils with behavioural emotional and social difficulties.
Gloucestershire dates: Mondays 7 Oct, 4 Nov & 2 Dec 2019
SEAL Newsletter No.21 Autumn 2019
Welcome to the 21st SEAL Community Newsletter
Dementia Action Alliance (DAA)
The Dementia Action Alliance (DAA) would like to invite you to the premier of their film project, "I'm still Here", on Thursday 3rd October at Newent School (6pm show starts 6.30pm). Please let us know if you are thinking of coming: sarah.davies@publicagroup.uk / 07772060272.
Antibiotic Resistance

All of the campaign materials can be found here. These have all been developed from the winning creative idea from students at Gloucestershire College, with their help and input.
They have really helped to bring this campaign to life and been pivotal in its execution across print, billboards, buses, social media and website pages.
New Parent Support Advice Line Launched 15th April 2019
Parenting can be hugely rewarding but it can also be really hard work, especially if you think your child is unhappy or you are worried about them.
TIC's new Parent Helpline is FREE, CONFIDENTIAL AND ANONYMOUS. For further details, please click on the link: Parent Support Line
Mental Health Awareness Week - 13th - 19th May 2019
Turn awareness into action www.rethink.org
Jessie and Friends - onlife safety education for 4-7's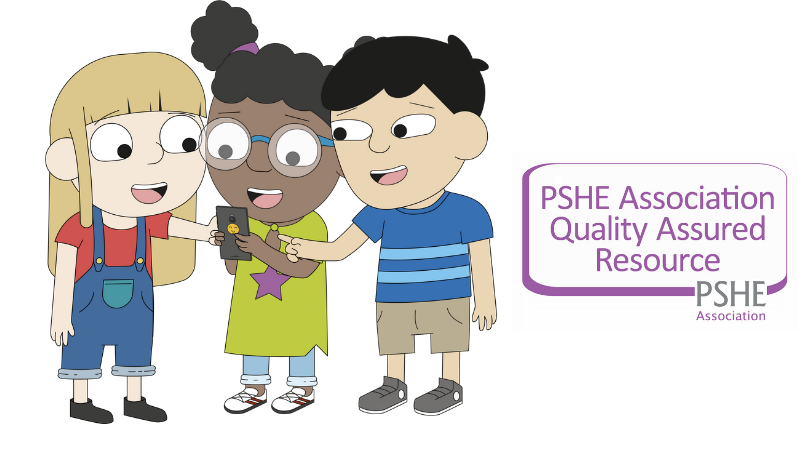 Jessie & Friends is a three-episode animated series which aims to equip 4-7 year olds with the knowledge, skills and confidence they need to help them stay safe from sexual abuse and other risks they may encounter online. Jessie & Friends follows the adventures of Jessie, Tia and Mo as they begin to navigate the online world. They learn that while the internet can be an exciting place where they can learn and have fun, sometimes they may encounter things online which make them feel worried, scared or sad. The films are accompanied by a comprehensive resource pack for professionals, with session plans for each episode and guidance on safe and effective delivery. Also available are subtitled versions of the animations, storybooks, and posters for parents/carers and children.
Chat Health - a school nurse text service for young people
A text messaging service for 11-19 year olds in Gloucestershire provides confidential advice about health and wellbeing to further improve access to healthcare for young people, and will offer support to young people with questions relating to various issues including relationships, bullying, healthy lifestyle, anxiety, drugs, smoking, stress, body worries, gender issues, alcohol, self-harm and sexual health. Click here for more information.
Online Pupil Survey 2018
A recent survey shows the majority of young people in Gloucestershire feel safe at home and school and are happy and satisfied with their lives.The largest ever Online Pupil Survey, which covers a number of key aspects of young people's health and wellbeing, captured the voices of over 32,000 pupils across 96 per cent of Gloucestershire's schools and colleges.The survey is done every two years and asks pupils about their lifestyle choices and engagement with school, as well as their emotional wellbeing and aspirations for the future.
What's on your Mind? website
With the help of children, young people, their families and others, Gloucestershire Clinical Commissioning Group has written a five-year plan called 'Gloucestershire's Future in Mind'. The aim of the plan is to try and make things better for children and young people with mental health problems in Gloucestershire.
They found that children and young people want to know what help and support is available to them locally and nationally. They want to know how they can help themselves and which websites they can trust. That is why they have created the 'On your mind' website.
This website will mean that they are able to get help when they need it and also do things to make themselves stronger, so they are more able to cope when things are tough. Please see link to website below :-
https://www.onyourmindglos.nhs.uk/


Guidance - New Zealand Terrorist Attack
Advice and support for parents, children and teachers affected by terrorism following the New Zealand terrorist attack
Published 18 October 2017
https://www.gov.uk/government/publications/support-for-children-parents-and-teachers-victims-of-terrorism/additional-advice-and-support-for-parents-children-and-teachers
Letter to Schools following the New Zealand attack 20March2019
Anti-Bullying Alliance
The recently re-launched Anti-Bullying Alliance's All Together programme looks to be exciting and beneficial once again. Get your school involved with this FREE programme https://bit.ly/2yixkNh to help improve their safeguarding practices around bullying. These resources have been praised by participants over and again, [All Together] "Opened my mind and showed how we can address the issues we are struggling with".
Join the schools that have reduced bullying and improved pupil wellbeing. Sign up to All Together today! https://bit.ly/2yixkNh
Want to evidence to Ofsted effective practice in safeguarding from bullying? Become an All Together school https://bit.ly/2yixkNh @ABAonline
FREE All Together programme supports schools to reduce bullying of all children including those with SEND @ABAonline https://bit.ly/2yixkNh
Does your school want support in tackling bullying and improving pupil wellbeing? Find out how the All Together programme from the Anti-Bullying Alliance can support you to become an All Together School or improve your All Together School status here https://bit.ly/2yixkNh @antibullyingalliance #stopbullying
LGBT History Month - Frida Kahlo
Stonewall has developed some resources for LGBT History Month on Frida Kahlo. They consist of a range of lesson plans and accompanying resources for use in both primary and special schools. Click here to view the resources.
1st International Women's Day Celebration 08.03.19 7pm At the Friendship Cafe, Gloucester
Dress : for yourself
International finger food included
Arrive 7pm
There will be a variety of workshops, competition winners and survey prize draw
Book your tickets now, try something new, celebrate, and enjoy a fun evening
The Coffee Shop will be open
GirlTalk: an emotional and Wellbeing programme for young women
The aim of GirlTalk is to deliver key messages and help develop skills around emotional resilience, mental health and wellbeing for young women which can impact positively on educational achievement, positive health and lifestyle choices and improved health and quality of life.
For more information about this FREE programme that will be delivered in Gloucestershire High Schools and to schedule your school's FREE sessions please see link below:
Play Parents v Kids Alexa quiz from O2 & NSPCC
Who knows more about the world of online, parents or kids?
Get the whole family together and take the O2 NSPCC Parents v Kids quiz. See who knows the most about the online worlds, and learn a bit more about staying safe.
Click here to visit the website
Free CPD with the Bank of England and PSHE Association (KS3&4)
The PSHE Association and the Bank of England will be running 4 free regional CPD events focusing on the importance of economic wellbeing in PSHE education and exploring the resource 'econoME'. The sessions are targeted for school teachers based in key stages 3 and 4.

We are expecting a high level of interest in attending these courses. We are therefore asking those interested to complete this short form to express interest in attending. We will be in contact with you in early January 2019 to confirm if we can offer you a place on the course.
These free CPD sessions will run from 1.30pm until 4.30pm on each day, and be held in the following locations:
London: Friday 18th January
Manchester: Wednesday 23rd January
Birmingham: Tuesday 12th February
Leeds: Wednesday 6th March
Ten Steps towards school staff wellbeing
This resource was launched on 28/11/18 by Anna Freud National Centre for Children & Families following the call by Schools in Mind to make this year a year of wellbeing for school staff. Click here to view the full report.
MBE for Di Harrill GHLL Lead Teacher
Congratulations to Di Harrill PSHE Lead Teacher at Newent Community School and Sixth Form Centre and GHLL Lead Teacher
- receiving her MBE for services to education.
GHLL would like to wish all Gloucestershire Schools and Colleges a Happy and Healthy 2019

Samaritans - Brew Monday
By having a brew, you can help save lives
Get together with your friends, family or workmates on Brew Monday, 21 January 2019 (or any day throughout January), have a cuppa, raise vital funds for Samaritans and beat the January blues! Taking part is easy, simply sign up today for your FREE fundraising pack!
Young Money - Free Financial Education Planning Frameworks for all school ages
Spend it, save it, give it, get it?
Whatever we do with money, we need to manage it well. A planned programme of financial education, combining mathematics, citizenship and PSHE education, can help give children and young people the confidence, skills and knowledge they need to manage their money, now and in the future.
Young Money (formerly pfeg) is providing a free Financial Education Planning Framework for 3 - 11 years and 11 - 19 years. Click on the links below to download a copy.
Primary: https://www.young-money.org.uk/sites/default/files/Primary%20Planning%20Framework%20WEB%20Sept%2018.pdf
Secondary: https://www.young-money.org.uk/sites/default/files/Secondary%20Planning%20Framework%20WEB%20Sept%2018.pdf
Become a Crimestoppers Amabassador
Crimestoppers is an independent charity helping communities to 'Speak up. Stay safe'.
Become a Crimestoppers Ambassador - we need your help to spread the word about how our charity helps the people and communities you care about.
Contact us by phone on 020 8835 3700 or email: ambassadors@crimestoppers-uk.org
What is Music Minds?
A music-based mental health programme for teenagers. Empowers young people to cope with stress, anxiety, depression, self-harm and eating disorders.
Enables Self-expression, increases Self-awareness, Improves relationships, Builds Confidents, Empowers young people to use music as a coping strategy.
For more details: http://www.themusicworks.org.uk/school/at-risk/music-minds/
Training dates for Lodeseeker 2018 OPS Training
A choice of five locations:
Wednesday 14th November, 4.15pm - 6.00pm Cirencester 6th Form, Stroud Rd, Cirencester GL7 1XA

Tuesday 27th November, 4.00pm - 5.30pm Barnwood Park School, St Lawrence Rd, Gloucester GL4 3QU

Thursday 29th November, 4.15pm - 6.00pm Sir Thomas Rich's, Oakleaze, Gloucester GL2 0LF

Thursday 6th December, 3.45pm - 5.15pm
GLosCol, New Forest (new campus) Forest Of Dean Campus Northern United Way, Cinderford GL14 3FF
Tuesday 15th January 2019, 4.15pm - 6.00pm Tewkesbury School, Ashchurch Rd, Tewkesbury GL20 8DF
Trans Inclusion Schools Toolkit
Trans Inclusion School Toolkit October 2018 This toolkit has been written by Ryan Gingell, Allsorts Youth Project and Sam Beal,Brighton & Hove City Council in consultation with trans children and young people and their families.
New Stonewall School Guides
GHLL are really pleased to be able to forward from Stonewall two new guides which were launched on 26th September:
Talk About Alcohol
For information and resources from the Alcohol Education Trust please see link below.

http://alcoholeducationtrust.org/teacher-area/download-teacher-workbook/
Saying #HelloYellow for World Mental Health Day

Today, thousands of schools, workplaces, colleges and universities up and down the country are wearing yellow to raise vital funds and show young people they're not alone with their mental health. From donning banana suits and creating artwork, to hosting yellow cake and coffee mornings, we've seen loads of creative ways people are saying #HelloYellow today. And it's not too late for you to get involved! How you can join in with #HelloYellow today:
Wear a bit of yellow, it could be a pair of socks, a coat, tie or some nail varnish - anything you can find! Take a picture and tag @YoungMindsUK and use the hashtag #HelloYellow
Donate online or text YMHY00 £5 to 70070 (the maximum text donation amount by text is £10)
You can still sign up to download our #HelloYellow Fundraising Kit
By saying #HelloYellow today, you'll be helping us continue our fight for a future where all young minds are supported and empowered, whatever the challenges.
Save Gloucestershire's Antibiotics - We need your ideas
SEAL Newsletter No. 18
Welcome to the eighteenth SEAL Newsletter.
You can read it online by clicking the links below, or download a pdf version of all the content here. Please remember you need to be logged into the site to view these links. Login at www.sealcommunity.org now.
Sunflowers: The Grief Recovery Method - Helping Children with Loss
To book: 07792 374752
Equip your team to help children with grief and loss
Are you seeing reduced concentration, temper, acting out, withdrawal, anxiety, reduced attainment? These are all commonly grief symptoms.
Are you keen to teach children emotional resilience? Equip them to deal with life? Learn what best to say when dealing with all kinds of loss? Enhance positive mental health?
The Helping Children with Loss programme is now available for the first time through us, a Gloucestershire based charity, SUNFLOWERS.
Just 6 x 2-hour sessions completes this comprehensive course
Suitable for both professionals and parents
Led by a Certified Grief Recovery Specialist®
Certificate provided on completion
We can come to your premises
Course fees are 100% donation to Sunflowers
Costs can be offset against CSR (where applicable)
Why is this programme needed?
Children and teenagers encounter so many losses: death of relation, death of a pet, leaving parents, friendships, moving home, moving schools, moving countries, fostering, adoption, divorce, extended families, ill health, difficulty with studying, exam pressure, and so much more. We want to support you in recognising grief and grieving behaviours and give you the tools to be proactive in dealing with these daily in your setting.
Feedback from our recent programmes:
"I have been given the skills to help the children I work with to deal and cope with all areas of grief"
"… changed some of my own ideas on how to talk with children"
'. The whole group have learnt and enjoyed this course, from your experiences and teaching'
'showing our emotions teaches children that feeling sad and seeing adults upset is ok'.
"I have learnt a lot about myself. I now understand that it is not just death that causes grief".
Course cost £250 per delegate for 6-week course, with a 10% discount of bookings of 5 delegates or more. Costs can also be negotiated if your school host this course. For more information call Bekki 07792 374752 or email: griefrecovery.sunflowers@outlook.com
Who We Are: We set up in memory of Pete Morris who died by suicide in September 2016. Sunflowers walk alongside those that have lost to suicide offering peer support, memorial events, initial contact and informative packs. We offer educational programmes including Asist and Grief Recovery. We aim to raise awareness and shatter stigma and have campaigns & events promoting this. More about Sunflowers at sunflowerssuicidesupport.org.uk
Samaritans - Support the Big Listen!

On 24 July we're hosting a 24-hour event called The Big Listen.
The Big Listen is all about raising awareness and funds to keep Samaritans running. Suicide is not inevitable, it's preventable, and our volunteers are there 24 hours a day, 7 days a week, to support people that feel like they have nowhere to turn.
Click here to view the full article
Hold an Equali-tea
Hold an Equali-tea and raise vital funds for LGBT equality. Click here for full details where you can order your FREE Equali-tea pack which is available from Stonewall
Story Station
What is Story Station?
Story Station is a reading platform that has been created exclusively for schools, with content from some of the world's leading children's publishers.
Featuring lesson plans and activity sheets, animated stories, eBooks, educational games and creative functions, the unique Story Station experience will help to:
Inspire a lifelong love of reading
Support National Curriculum learning objectives with interactive games
Stimulate young minds with creative digital activities
Entertain with immersive storytime animations
Motivate reluctant and less able readers
http://lovedbykids.com/schools
Story Station is an immersive teaching aid for all Nursery, Reception and Key Stage 1 children
Story Station software can be used on individual PCs, or on a classroom PC connected to an interactive whiteboard
Building Suicide-Safer Schools and Colleges - a guide for teachers and staff
This guide has been developed to support teachers and school staff to build a suicide-safer school.
It
aims to provide school staff with an understanding of the most effective strategies to implement and to create a suicide-safer environment. The material in this guide is designed for secondary school and FE college teachers and staff, but can be adapted for younger children too.
Click here to visit the website
FREE Workshop - 'Creating behaviour change for physical activity'
FREE Workshop
A workshop entitled "Creating behaviour change for physical activity" will be run by Healthy Lifestyles Gloucestershire on 4th July, 10.30 - 13.00 at City Works, Alfred Street, Gloucester, GL1 4DF.
More details and sign-up via the link below.
https://www.eventbrite.co.uk/e/creating-behaviour-change-for-physical-activity-tickets-47257408180
This course is for anyone who is involved in encouraging people to live active and healthy lifestyles. Delivered by Healthy Lifestyles Gloucestershire, this course takes the principles of Making Every Contact Count (MECC) training to provide useful ways in which you can support individuals to change their behaviours. As part of this interactive workshop, you will cover: The current landscape and how lifestyles and behaviours can support an improvement in this Behaviour change – what it means in theory and practice in relation to healthier lifestyles Communication; how to start or open up a conversation; how you can reframe and rephrase conversations so they 'land well' and feel positive and non-judgemental; how to have strengths-based conversations; removing barriers to communication – including rolling with resistance; what national guidance is telling us about healthy lifestyles; signposting people to support.
Trauma: Effects & Recovery
The Trauma Conference is on 29/06/17 at GLIC, Gloucester with guest speaker Betsy de Thierry (trauma specialist).
Click here to view full details on the Conference. For further information search: Gloucestershire Education Psychology Service
Domestic Abuse - DASH and MARAC Workshops 2018
Are you working with adults, children and young people who are experiencing or witnessing domestic abuse?
Do you have up-to-date information about the national risk assessment tool – DASH and the MARAC process?
Are you aware of local support available to adults, children and young people?
The GSCB is offering a series of Free half day training workshops on the Adult and Young Persons domestic abuse DASH and Multi-Agency Risk Assessment Conference (MARAC)
These workshops will provide professionals with up-to-date knowledge and practical skills.
For More information and to book: Course dates, description and Booking Form
New Stonewall resource launched - Celebrating bi students in secondary schools
Stonewall have launched their new resource today (24th April) – Celebrating bi inclusion in secondary schools.
According to a 2016 survey carried out by the Office of National Statistics, 1.8 per cent of 16-24 year-olds identified as bi, and in a 2015 YouGov poll, 43 per cent of 18-25 year-olds chose something other than '100% heterosexual' or '100% homosexual' when asked about their sexuality.
The School Report 2017 shows that the specific experiences of bi students are often overlooked or assumed to be exactly the same as those of gay and lesbian students. It also found that more than a third of respondents 'frequently' or 'often' hear biphobic language, and that 35 per cent of bi students are bullied at school for being LGBT. Over two thirds of bi students have deliberately harmed themselves.
This guide gives schools useful tips to tackling biphobia and bi erasure, and practical ideas to better support their bi students.
About Clean Air Day - 21 June 2018
Air pollution is real and harms the health of millions. But there are lots of simple things we can do to improve air quality and look after our own and other people's health.
Clean Air Day is a chance to find out more about air pollution, share information with friends and colleagues, and help make the air cleaner and healthier for everyone.
Find out how you can get involved.
Active School Planner
A tool for primary schools to track and improve physical activity levels in their pupils. Read here.
https://www.activeschoolplanner.org/#welcome
Coram - Life Education
Enable your students to understand the issues facing adopted children at school. Increase staff awareness of behavioural issues that can affect young people from the care system. Enrich your school's values, helping children to empathise with others and respect diversity.Enhance Personal, Social, Health and Economic education by focusing on the PSHE Association's programme of study: Relationships, Health and Wellbeing, and Living in the Wider World.
New High Sheriff Appointed for Gloucestershire
The High Sheriff of Gloucestershire - Charles Martell
The role of the High Sheriff traditionally involves attendance at royal visits in the County and support for Her Majesty's High Court Judges when on the Circuit. These days, however, High Sheriffs play an increasingly active and supportive role within their Counties both in relation to the Police and emergency services and in lending encouragement to public sector agencies such as the probation and prison services and to voluntary sector organisations involved in crime reduction and social cohesion.
Each year about 450 Gloucestershire students attend court to watch proceedings under the Getting Court project. Students also have input from the Great Expectations programme where they hear accounts from an ex-offender .
Gloucestershire's Nurture Group (NG) Survey 2018
Gloucestershire County Council's Educational Psychology Service (EPS) and the NG Steering Committee are carrying out a survey regarding the use of Nurture Groups and Nurturing Approaches in the Local Authority. Having championed the use of Nurture Groups for the past 4 years, we would be very grateful if you could complete the questionnaire below, as the results will be used to help us make decisions regarding further support and help in the future. Please complete the survey regardless of whether or not you have a Nurture Group - this survey will take 2 minutes for settings with no NG and approximately 10 minutes for those with a NG.
To complete the survey on-line:
https://goo.gl/forms/DanpBC0kvoGujv4i1
Please click here to complete the hardcopy survey
Please return the completed survey to:
Oonagh Davies at Gloucestershire E.P. Service, 4 - 6 Commercial Road Gloucester GL1 2EA
Ride for Ryder Schools Challenge 2018
With the aim of getting more children on their bikes, Sue Ryder are launching the Ride for Ryder Schools Challenge 2018. Raising awareness and vital funds for Sue Ryder Leckhampton Court Hospice (LCH).
For more details and to find out how you can join the cycling festivities please click here.
Old Spot's Trail
Are you ready for the 2018 Daily Mile challenge?
​Old Spot is back! This year our piggy friend wants you to explore the Great British Isles.
Will you take on the challenge? Every class, from every school, in the county is challenged to take on Old Spot. Track your daily miles to take you from TopToTail – the distance from John O'Groats to Lands End – that's an amazing 874 miles!
Remember this could be one of your interventions for your Healthy Schools Award! Contact your GHLL lead teacher www.ghll@gloucestershire.gov.uk
When will you need to complete this challenge? The challenge runs from the 19th of March to the 22nd of June 2018.
Click here to visit the website and sign up to make sure you receive your daily miles pack before the 12th of March! Packs to be sent week commencing 26th of February.
PSHE education supports academic success, says major evidence review - Dec 2017
'Very strong evidence' that PSHE (personal, social, health and economic) learning has a positive impact on academic attainment, according to independent Pro Bono Economics review.
Disadvantaged pupils enjoy greatest benefits to academic performance
Through its proven impact on physical and mental health, levels of bullying and general behaviour, PSHE education removes barriers to learning and develops skills that help young people succeed
PSHE Association urges Government to follow through with proposals to make PSHE statutory, in line with other subjects, to ensure all pupils benefit.
To view the full report click here
Youth Mental Health First Aid Champions
FAO: Gloucestershire Secondary Schools, Special Schools and Alternative Provision This three year programme launched by Mental Health First Aid England in Easter 2017 is fully funded by the Department of Health and, in conjunction with MHFA we are delighted to offer your school one free place on the One Day Youth MHFA Champions Course.
Youth MHFA Champions – will have the skills to spot the signs of mental health issues in young people and guide them to a place of support.
For full details and booking instructions click here.
OPS 2018 Sign-Up
The Online Pupil Survey (OPS) – the twelfth since 2006 – will be live for all schools and colleges to access for 10 weeks from mid January until the end of March 2018. If you would like to take part just click on the image below and follow the sign up instructions. If you need any help please contact your GHLL lead teacher
Click on the image below to sign up...
Lodeseeker Training - Book Now
Our online data reporting and visualisation tool, Lodeseeker™, is a tool through which schools can access their OPS, target areas of improvement; and to demonstrate to OFSTED how they are actively monitoring performance, and listening to Pupil Voice. We have made significant improvements to Lodeseeker™ with a new summary dashboard and different reports, from comparison with County overviews to detailed drill-downs and from current behaviours to longitudinal trends. The twilight training session will give you the confidence to make the most of this valuable resource and is an opportunity to explore your data with expert support. Click on the image for more information.
More training dates to be confirmed in the New Year.
Mental Health Champions Award
The first GHLL Quality Assurance Group to assess submissions for the Mental Health Champions Awards is taking place on 29th June.
If you would like your school's submission to be included in this QUAG, please ensure all your reports are submitted by 22nd June.

If you need assistance please contact GHLL@gloucestershire.gov.uk


BRAND NEW Introduction to Relationships and Sex Education (RSE) for Primary School Setting
Gloucestershire Healthy Living and Learning (GHLL) is delighted to launch their new Relationship and Sexual Education (RSE) Resource for primary school settings.
The RSE planning and resources provide teachers working from Reception to Year 6 in any educational setting within Gloucestershire with everything required to enable them to help young people think about growing up, changes they see in themselves, hygiene, challenging stereotypes and different types of love.
You will receive a completely FREE resource pack for your school including CD and the opportunity to go through the resource and ask questions. Puberty brochures for primary and special schools will also be available to collect.
Click here to reserve your place on 6th July or 13th July 2017 12:00 - 16:30 and receive your FREE pack.
MHFA England - Ten Keys to Happier Living
Mental Health First Aid have created a fantastic poster based on the '10 Keys' from Action for Happiness. It shows some of the practical things we can all do to look after our mental wellbeing. Take a look and download here.
Will you join the 100,000?
Over 100,000 people have pledged to end mental health stigma with Time to Change. Will you join them?
Time to change is a growing movement of people changing how we all think and act about mental health. Be part of the movement by pledging to challenge discrimination, be there for a friend, or share your own story.
Happy New Year Calendar
Click here to view the full size calendar and to visit the Action for Happiness website
Centre of Excellence Annual Conference 07/11/17
This year, Centres of Excellence are holding the Annual Conference on Tuesday 7th November 2017 at Etc. Venues County Hall, Westminster. For the first year ever, they are extending the invitation to teachers outside of the Centres of Excellence network, as well as their current financial champions and headteachers.
This free annual event provides the perfect opportunity for teachers at schools, sixth form colleges and alternative provision centres to showcase their work, share ideas, meet the funder of the Centre of Excellence Programme and celevrate success!
The day will include a selection of good practice workshops, a resource share zone, a networking lunch and the Centres of Excellence awards ceremony - not to mention the special guest speaker, Martin Lewis, OBE - Money saving Expert (subject to filming)
This is a fantastic opportunity for you to network with lots of likeminded teachers who are at various stages of the programme. Centres of Excellence will also be supporting attending teachers by contributing towards travel expenses, on a first come, first serve basis.
To get your free ticket (two per school) and to find out more, click here.
Was the information on this page helpful?