Online Educational Support
What does home learning look like in Gloucestershire's schools?
Here are some examples of what home learning provision looks like in some of the county's schools.
This is not intended as a record of provision, but merely a brief overview, with some illustrative examples, so that schools can see what others are doing. Leaders will have chosen their approaches to suit the needs of the pupils at their school but this may not necessarily be the right approach for other schools. Provision may change over the coming weeks, particularly if school closures continue for a long time.
What Gloucestershire schools are doing
Primary schools
Gotherington Primary School
Pupils sent home with an exercise book and provided with a weekly timetable and a home learning pack, consisting of Word documents outlining each day's learning activities and any associated resources and web links.
Packs emailed weekly to parents and also uploaded on the school website https://www.gotherington.gloucs.sch.uk/page.php?id=11100
Video messages sent out via email and Twitter from the headteacher and Hero, the school dog.
Example: Gotherington Home Learning Pack (Y5) (ZIP, 7 MB)
For more examples go to Gloucestershire Home Learning resources
Young Enterprise has always focused on the skills development of young people aged 4 to 24. Having considered the best way that we can support you right now we have created a free toolkit for teachers which provides a broad range of ready-to-go activities and materials that are easily used for home learning. We felt that these would be the best way of supporting the delivery of a broad and balanced curriculum in a home learning environment.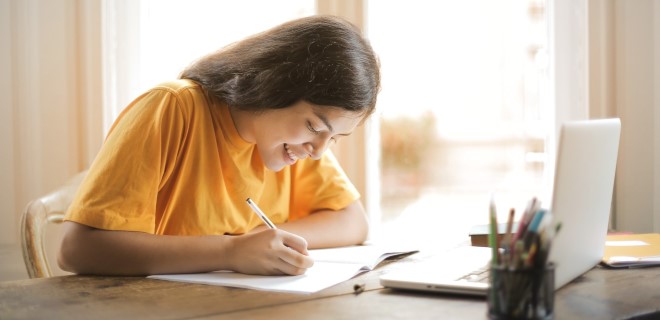 To accompany the teacher toolkit we have also developed a toolkit for parents – providing guidance on how certain activities and resources could be used by them in the home to enrich learning.
Using our experience and knowledge of the ways in which soldiers gain confidence, we have developed a set of online educational resources that help to develop your pupils' confidence-building skills. These home learning resources will equip your students with the mindset to overcome mental and physical challenges, grow their self-confidence and build vital skills that will last a lifetime.
Our home learning resources are packed with ideas about how your pupils can get out of their comfort zone and encourages them to think about how they can build their confidence. Our free, online resources explore multiple topics from mindfulness and having a growth mindset, to celebrating success and turning criticism into constructive feedback, all of which can build and develop their self-confidence.
https://apply.army.mod.uk/base/lessons
Free access to digital resources
To support continued teaching, learning and building students' science skills and confidence, we're offering free access to e-Textbooks and revision materials for:
KS3: Exploring Science ActiveBooks for Years 7,8, and 9; Exploring Science International ActiveLearn
KS4: Pearson Edexcel GCSE (9–1) ActiveBooks for Combined Science, Combined Science Support Edition, Biology, Physics, Chemistry

Pearson Edexcel GCSE (9–1) REVISE Revision Guides for Combined Science, Biology, Chemistry, and Physics
KS5: Pearson Edexcel AS/A level ActiveBooks 1 and 2 for Biology, Chemistry, and Physics

Pearson Edexcel AS/A level REVISE Revision guides for Biology, Chemistry, and Physics.
Once you have access to these student-facing materials, you can then share them as part of an online class or with your students to work on at home with their parents or carers.

Learn more about the resources available and request free access.

If you have any queries about your access or during the set-up process, please contact our Digital Support Team
School Wellbeing Activity Programme
We have created a wellbeing journal filled with challenges and activities to keep children happy, healthy and active whilst at home.
The journal is based on the four pillars of SWAP; how I eat, how I sleep, how I move, how I feel, and is aimed at children, but is a great resource for teachers and parents too and can support remote learning.
Set your class one of the daily challenges and they can record the results in their journal. From inventing their favourite smoothie, recording the quality of their sleep, to building a home gym and expressing how they are feeling, the journal encourages children to look after their overall wellbeing.
There are two versions available for download on our website, one for print and an interactive version at www.nuffieldhealth.com/kidswellbeing We hope you find this resource useful and a fun way for your children to stay happy, healthy and active. Please feel free to share the link with children, parents and teachers.
For those of you who like a bit of structure in your lives; here's what various celebrities are offering teachers,parents and children for free. Daily help with their education while schools are closed:
9.00am - PE with Joe Wicks https://youtu.be/6v-a_dpwhro
10.00am - Maths with Carol Vorderman www.themathsfactor.com
11.00am - English with David Walliams https://www.worldofdavidwalliams.com/elevenses/
12.00pm - Lunch (cooking with Jamie Oliver) https://www.jamieoliver.com/features/category/get-kids-cooking/
1.00pm - Music with Myleene Klass https://www.youtube.com/channel/UCQh2wgJ5tOrixYBn6jFXsXQ
1.30pm - Dance with Darcey Bussel https://twitter.com/diversedancemix/status/1241098264373592065
2.00pm - History with Dan Snow (free for 30-days) https://tv.historyhit.com/signup/package
4.00pm - Home Economics with Theo Michaels (Mon/Wed/Fri) https://www.instagram.com/theocooks
Non-daily events include:
Science with Professor Brian Cox, Robin Ince & Guests https://cosmicshambles.com/stayathome/upcoming-schedule
9.30am Wednesday 25 March - Geography with Steve Backshall https://twitter.com/SteveBackshall/status/1242058846941712385
For your older children and young people, here are 50 free revision resources for 11+, GCSEs and A-Levels:
Revision resources for GCSE, A Level, 11 plus and SATs
SEAL have great lessons to help children understand and deal with the coronavirus situation. They were developed in Australia because of the bush fires but they are SO relevant to what our children are going through. Use them if you are in school teaching children or with some adaptations use them for ZOOM or Microsoft Teams online lessons. Help children deal with changes they are experiencing from Coronavirus
Five steps to help with children's wellbeing
In a society where children are feeling more under pressure than ever, helping children with their emotional wellbeing is a concern for many parents and teachers alike. But how can we help?
Clinical psychologist and special guest for BBC Teach's The Growth Mindset and Wellbeing Lesson, Dr Hazel Harrison, has put together five easy steps to promote children's wellbeing - as well as our own. Five ways to keep your children occupied (and learning!) at home
On line educational resources
Teaching from home: advice for teachers and parents In these difficult and unusual times, whether you are at school or at home, BBC Teach is here to help and support you with our huge range of educational resources. Use them yourself or tell your students' parents about them. They will be grateful for some fun, home-learning activities and resources.
BBC Teach
BBC Teach's video resources cover every subject from art and design to science. There are hundreds of short, educational films to explore covering relevant curriculum topics.
BBC Bitesize - Activities and guides for 11 to 14-year-olds
BBC Bitesize has hundreds of fun and engaging curriculum-linked guides and activities which students can use independently. Just choose your nation of study, pick a subject and you will see a list of key curriculum topics.
BBC Teach - Secondary Live Lessons
BBC Teach Live Lessons are curriculum-linked video lessons, complete with downloadable resources, covering topics in English, maths and science. They can be watched at any time. You may spot some well-known BBC faces!
BBC Teach - Video resources for 14 to 16-year-olds
BBC Teach's video resources cover every subject from art and design to science. There are hundreds of short, educational films covering relevant curriculum topics to explore.
BBC Teach - Secondary Live Lessons
BBC Teach Live Lessons are curriculum-linked video lessons, complete with downloadable resources, covering topics in core subjects but also careers. They can be watched at any time. You may spot some well-known BBC faces!
On-line educational resources
https://www.home-education.org.uk/
Good for Maths and computing but other subjects too
https://www.bbc.co.uk/learning/coursesearch/
https://scratch.mit.edu/explore/projects/games/
Both above are coding and computer skills sites
https://www.natgeokids.com/uk/
Learn a language for free
https://thekidsshouldseethis.com
https://m.youtube.com/user/crashcoursekids
Science awards
https://naturedetectives.woodlandtrust.org.uk/naturedetective/
https://www.britishcouncil.org/school-resources/find
https://www.bighistoryproject.com/home
Steve Backshall - Virtual lessons about wildlife
https://www.youtube.com/channel/UCm-URP49TgSgyIU1rgh2m7A
https://world-geography-games.com/world.html
https://www.facebook.com/artfulparent/
https://kidsactivitiesblog.com/
Music
Myleene Klass (@KlassMyleene) Tue, Mar 24, 2020:
Providing babies/kids to their music groups or classes, tomorrow at 6.30, I'm playing Disney themed lullabies as requested by you (let me know what they want to hear).
Big kids 😉 also welcome. Subscribe for FREE https://t.co/cBJoTaScBj #myleenesmusicklass https://t.co/TtQyHPKj5J
New support site and Twitter channel for parents and carers
For parents and carers looking after children during the school closures, please do share our free parent support site and @pearsonparents Twitter account.

Here they can find free secondary activities, tools and advice to support learning at home – including sample homeschool planners, access to free eBooks at secondary, and much more.
Free Access to Widgit Online
With more schools closing across the world to help fight the spread of Coronavirus (COVID-19) we wanted to do something to help parents, teachers and carers who use symbols to support their children and young people.

To make sure symbol users have access to the systems and resources they need, we would like to offer free and unrestricted access to Widgit Online and it's ready-made materials for 30 days. Use Code: WIDGIT30
Trial Users: Click here to enter the code and enable 30 days free access to Widgit Online and the ready-made resources.
Our education specialists will be providing regular tips and advice on how you can use Widgit Online from home both as a parent and teacher.
1. Supporting Routine

Some young people may become anxious without the structure and routine of school; use a Widgit Online Timetables and Planners template to create a schedule or simple Now and Next board.

Read More
Symbol-supported information and display posters

These easy-to-follow symbol-supported information sheets and posters can be used to start conversations with children about hand washing and personal hygiene.

Stop the Spread
The best prevention against the Coronavirus is still washing your hands. Click on the link to view the PowerPoint
Your school can help stop germs spreading by using our range of fun lesson plans on hand washing and respiratory hygiene.
KS1: Horrid Hands
KS1: Super Sneezes
KS2: Hand Hygiene
KS2: Respiratory Hygiene
KS3: Hand Hygiene
KS3: Respiratory Hygiene
These resources are on the e-Bug website and training is available through GHLL. Please email ghll@gloucestershire.gov.uk for more details
Was the information on this page helpful?