Citizenship
Ukraine - Gloucestershire Guidance and Support
Ukraine - Guidance and Support from Gloucestershire County Council.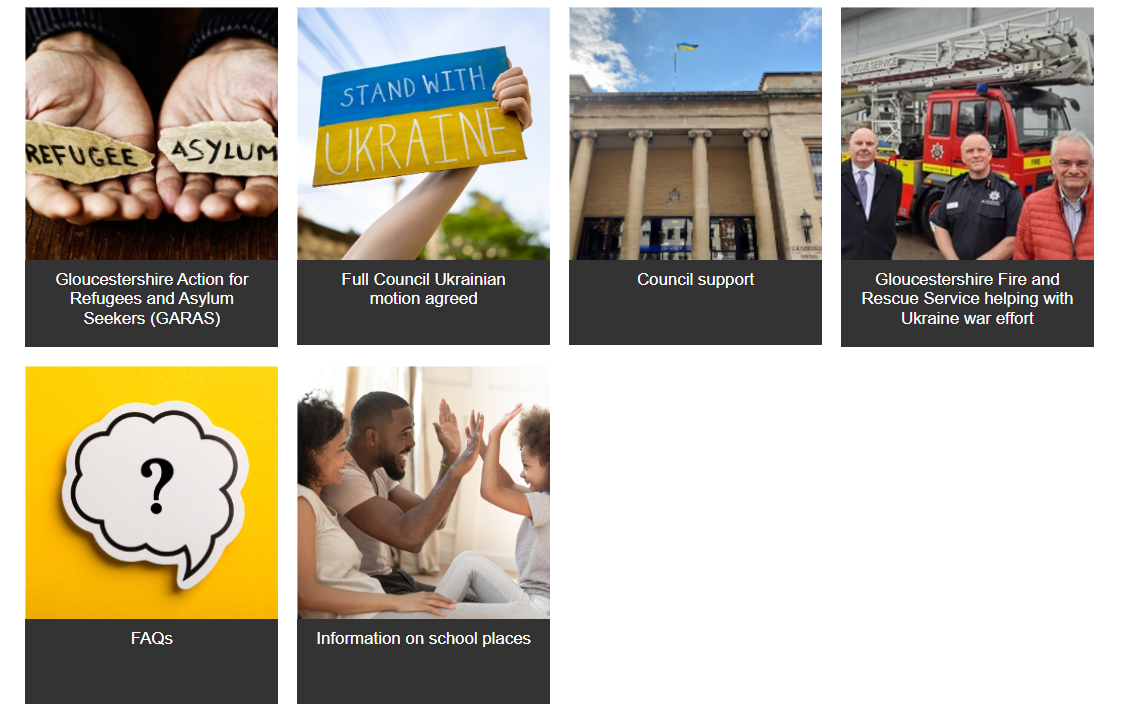 Talking to pupils about Russia's invasion of Ukraine
Help for teachers and families to talk about the war in Ukraine, and how to help them avoid misinformation.
Russia's invasion of Ukraine is distressing and concerning, and we understand children and young people may have questions or be seeking reassurance. We know that schools are well placed to talk to pupils about the images they are seeing and help them navigate the concepts and issues this brings up but we're also aware that it raises issues some schools and teachers may never have encountered before.
Here we share some useful advice and resources for schools and teachers – but they may also be useful for families and young people themselves.
Talking About Ukraine and Russia
We know that children and young people may be worried or upset when hearing the news about Russia invading Ukraine so we have created a list of resources and organisations that can help
Useful resources for talking about Ukraine and Russia - BBC Children in Need
The invasion of Ukraine is a deeply disturbing development. As a mental health charity, we know that the psychological impact of war can be felt sometimes for generations. We are working towards developing a greater understanding of trauma and the impact on children and families.

The UK Trauma Council, founded by the Anna Freud Centre, includes general information about the impact of trauma.

We have also had specific requests for advice on how to best respond to our children's natural curiosity and growing anxiety around the conflict in Ukraine. In response we have developed some useful suggestions with BBC Bitesize for parents and carers you may wish to share with the families you support.

For professionals, the UK Trauma Council has a range of information and resources to help improve outcomes for refugee and asylum-seeking children and young people which signposts to a range of resources you may find helpful.
How to talk to young people about distressing complex, emotive news stories
The Educate Against Hate website is a useful resource when dealing with a range of issues relating to conflict, difficult classroom conversations and more. A post by Tom Bigglestone, a former Head of Humanities and now Online Learning Manager at The Economist Educational Foundation, encourages teachers to:
Establish the facts by pointing pupils towards "trusted, reputable sources that explain the what, where, when, why and who". It encourages teachers to challenge incorrect information when they see it and to present evidence for facts and get pupils to do the same

Explore a range of diverse perspectives by considering the different voices within the classroom, showing solidarity with potentially marginalised voices and views and make sure it's not left to a pupil to stand up for a particular minority viewpoint alone

Be comfortable without an answer for everything – and help your pupils feel comfortable with that too – by being clear that in many circumstances there is no one 'right' answer

Encourage students to debate ideas by facilitating discussion and helping pupils know that debate can happen without it becoming personal – by, for example, encouraging pupils to say they disagree with someone's idea, rather than with the person.
Educate against hate also has a range of teaching resources aimed at promoting dialogue in the classroom that can support students to achieve a greater understanding of complex and sensitive topics.
How to spot mis- and disinformation and how to help pupils do the same
Mis- and disinformation are particularly prevalent during times of conflict and the risk posed by misleading narratives and information becomes more severe. Educate Against Hate hosts content produced by Be Internet Citizens, an educational programme developed by the Institute of Strategic Dialogue and YouTube. Covers topics including:
How to identify mis- and disinformation (e.g. conspiracy theories, clickbait, manipulated media);
Exploring fact versus opinion, including how sensational content can be used to drive user engagement;
The benefits and pitfalls of a 'personalised web', including algorithms and filter bubbles;
Understanding unconscious bias and how it influences our worldview;
Analysing 'us vs them' narratives, and how online echo chambers may widen social divides;
Responding effectively to hate speech and forging more inclusive digital communities;
Creating inspiring digital content to champion causes, promote positive messages and support peers.
Educate Against Hate also hosts a one hour lesson plan from the Economist Educational Foundation that explores why conspiracy theories are more common in times of crisis, why people spread them and how they should be debunked.
Eat Short (film and song)
Let's Eat is a 8 minute animated short film https://www.youtube.com/watch?v=0MX_fJAhmEE&t=0s that centers on the relationship between a mother and daughter in a Chinese-American immigrant family. Let's Eat strives to be a universal story told through a distinctly Asian-American voice.
As a single parent in an unfamiliar country, Ma's entire life centers around raising Luan, her rambunctious young daughter. Likewise, Luan spends her childhood indulging in endless quality time with her playful, loving mother. However, as Luan grows up, it isn't long before daily life interferes and causes mother and daughter to grow apart. By channeling their feelings into cooking, the two strive to find their way back to each other, one homemade meal at a time.
Ma and Luan's tale touches upon mother-daughter relationships, the American immigrant experience, and the unspoken translation of love into food - familiar themes reflected through a fresh perspective often overlooked in mainstream media. We at Anamon Studios aim to share in our similarities as much as we celebrate our differences, and to this end we hope that Let's Eat will resonate with audiences of all backgrounds and experiences.
Verse 1)
I hold your laughter Safe inside my mind
sweet moments captured so I can rewind
i'll always have them so anywhere I fly
I know you'll be by my side
(Verse 2)
You lift me up when I am feeling small
Up on your shoulders I become so tall
and though you raise me high above it all
I have no doubt that you'll catch me if I fall
(chorus)
You give me everything
you see the best in me
no matter where you go
you'll come back home
(Verse 3)
still only learning to say what's in my heart
so when you're hurting I don't know where to start
and though the words are often hard to find
we still have time to make things right
(chorus)
You give me everything
you see the best in me
no matter where i go
Key Stage 3 & 4 Guidance, Resources, and Articles
Citizenship Foundation - a range of resources for use in secondary schools.
Global Learning Programme - Citizenship subject guidance.
Leaving the European Union - a powerpoint presentation that can be used to teach pupils about the process of leaving the EU by triggering Article 50.
National Curriculum in England: Citizenship programmes of study for key stages 3 and 4
Key Stage 5 Guidance, Resources, and Articles
The Mix - Essential support for under 25s.
The Mix Home Truths - Information Pack provides real home truths to make sure young people are ready for what's to come!
The National Youth Agency - there to empower young people, and enable them to believe in themselves.
Tagged under: PSHE, Citizenship, Key Stage 3, Key Stage 4, Key Stage 5, resources, National Youth Agency, the mix, under 25s, KS3, KS4, KS5, National Curriculum, EU, global learning programme, secondary schools, uk