Mental Health under covid19
Accidents can be prevented

Due to covid19 social distancing measures, families will be spending more time at home and having more children of varied ages to look after, it is important to plan ahead to prevent injury and a preventable need for hospital treatment and care
Here we focus on the risks and serious injuries that are likely to be heightened during lockdown.
Parents
Download our Parents Pack for essential advice on keeping your children safe during lockdown and beyond.
Practitioners
We have also created content you can easily share with families, whether you are doing that via your website, by email, by newsletter, Facebook page or Twitter.
We have also created content you can share with colleagues or members, so they can help to spread the word to families too. If you are already signed up to receive CAPT communications you will receive an email alert when new resources are available. Don't miss out – sign up here.
Managing mental health and wellbeing: advice for families
Through the Thinkuknow survey, many parents and carers have told us that they are concerned about the impact of COVID-19 on their child's mental health and wellbeing and access to support services. Two new Parent Info articles explore how parents and carers can support their child's mental health, and highlight things they can do to manage the wellbeing challenges of family life under lockdown:
The world is in crisis. Keep Calm, Stay Wise & Be Kind.
This Coping Calendar has 30 suggested actions to look after ourselves and each other as we face this global crisis together. Download it as an image for sharing or a PDF for printing. Pass on to others and help spread the word
At the moment, we're all being bombarded with worrying news about coronavirus. Through this difficult time, we want to support you and your mental health – equipping you with the skills you need to take care of your own, and others', emotional wellbeing. Follow our eight practical tips for looking after your mental health while dealing with the coronavirus outbreak.
Supporting all schools during times of uncertainty
While the news and updates to Government guidance are rapidly changing it's really important for you to:

Acknowledge how much you are carrying at the moment and how flexible staff are being in adapting to the situation.

Accept that there are many things out of your control and that you can only work with what you have got – this might involve getting used to this feeling of discomfort and letting go of some of those perfectionist ideals. 'Good enough' may have to be good enough.

Be reassured that this intensely difficult time will change and will be replaced by a different perspective.

Recognise that the anxiety people are feeling may come out in different ways for different people, so validating these feelings is a really helpful first step. Check out our tips for helping children to cope with anxiety in the face of the virus.

Find support to help you and your school cope in these uncertain times. Download our resilience framework to support your school to build resilience.

We have created free resources below for you, children and young people and parents and carers. Please distribute these however you can to support and provide advice for all those in your school community.
Advice from YoungMinds
It's understandable for children and adults to feel concerned or anxious. Our parents advice offers practical things parents can do to help their children.
> Download the Resource
At Girl Rising, stories inspire us. They encourage us to see the world differently. They show us what is possible. We have put together the Girl Rising Family Guide to help bring these stories and conversations into your homes. It includes links to the film chapters, additional supporting short videos, discussion guides, and more.

The Girl Rising message has always been one of resilience and courage, of hope in the face of challenge. Those values have never felt more important than they do today.
Coronavirus and mental health

Here at the Charlie Waller Memorial Trust we remain positive and will continue to operate in order to fulfill our charitable aims, supporting people with practical, evidence-based information and tools to look after their mental health and wellbeing.
​We are following the latest information about the coronavirus from the Government website, as the most up-to-date and reliable source of information and guidance. You can also find some useful advice on the NHS common questions web page.
We will be sharing more frequent updates on social media and here on the CWMT website. Read about our operational approach during this time and view some useful resources below.
Talking to your children about coronavirus:
Your children may well be worried about the news and the information they hear from their peers and others about the virus. It is important that as a parent you are not surprised or dismissive about your child's anxiety.
​To begin with, you need to be aware of your own mental health concerns and take measures to address these as needed, because children are sensitive to their parents' anxiety.
Top tips:​
1. Take your child's concerns seriously and never say "Oh, don't worry about that, everything will be fine".​
2. Reassure your child that worrying is a normal and healthy response to a troubling situation.​
3. Ask your child what they have already heard about coronavirus. There is a great deal of information being passed around, some of which is not accurate.
​4. After knowing this, over-explaining can often be better than under-explaining as long as the advice is accurate, comprehensive and age-appropriate.
5. Only use trusted, impartial sources of information (some links are provided on this page)
​6. Make sure your child is not exposed to too much media, in particular where there is misinformation or information they might not understand.
​7. Help your child feel safe and educate them on the everyday actions they can take to help reduce the spread of germs.
​8. Help your child feel more in control by telling them how washing their hands or coughing into their sleeves can help stop the spread of germs.
​9. Ensuring structure and daily routine is important. Let your child maintain a regular activity where possible.
​10. Finding ways for children to have daily interactions with other people is helpful, even if it's remotely via Skype or Facetime.
​11. Exercise is important for children and parents, and is effective in managing anxiety and promoting wellbeing.
​12. Talk to your child about staying home from school and how this can help in not spreading germs, leading to a greater chance that the virus will go away.
How has COVID-19 affected the mental health of Children and Young People in the United Kingdom?
A Kooth
data release
showing the impact of Coronavirus.
Of the thousands of digital conversations being had, We are seeing spikes in many presenting issues, such as sadness, self-harm, suicidal thoughts, abuse and loneliness.
It is critical that we meet the needs of Children and Young People through the crisis, encouraging those with emerging concerns to express themselves and those with ongoing issues to continue their support.
Happiful
What was your favourite book growing up? Or the pinnacle moment when you felt completely swept away by a great story?
Books have a special power – whether it's pouring your heart out in a journal, escaping from reality with captivating fiction, or finally feeling understood when you see yourself in someone else's words.
Reading has the potential to connect us not only with people throughout history, and from all around the world, but also with ourselves.
https://shop.happiful.com/
Coronavirus: Supporting Pupils' mental health and well-being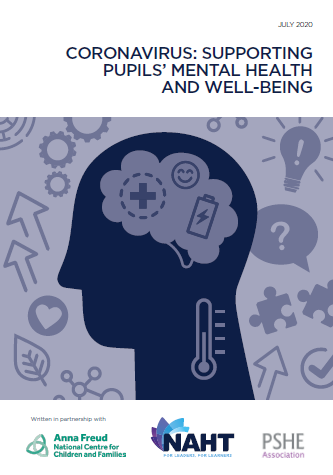 This guidance aims to help school leaders and
their staff, in all phases of education, support
children and young people with their mental
health and well-being in light of the impact of
the coronavirus pandemic, by outlining some
universal approaches for all pupils and for with
those with low-level mental health needs.
#HelloYellow!
At a time when it's needed most, let's come together for #HelloYellow!
On Friday 9 October, join schools across the country by wearing something yellow for World Mental Health Day, and help raise vital funds for YoungMinds.
> Sign up for your free #HelloYellow kit
Dr Radha's five mental health tips for lockdown
https://www.bbc.co.uk/news/newsbeat-52411394
For all of our coronavirus-related resources, visit our dedicated coronavirus and mental health page that is full of resources, tips, practical tools and guidance for children, parents and carers, and staff.
Lockdown and mental health-related resources
Dealing with the effects of lockdown toolkit
A toolkit focusing on managing the effects of lockdown, including loneliness, boredom, family problems and sleep disturbance.

Managing anxiety and improving wellbeing toolkit
Mindful crafts, breathing exercises and other self-care ideas, informative videos, emotional expression worksheets and helpful strategies to address anxiety during the pandemic.

Tools for managing emotions
Tools designed to help children understand and manage their emotions and feelings, and stay calm and in control.

The anxiety thermometer
Using a feelings thermometer is a great tool to help children recognise what feelings they might be experiencing in any given moment.

Helping children reframe negative thoughts
This simple activity will show children how to reframe their thinking around a negative situation, and look for positive ways to view the situation.

'Resilience ladder' activity
Developing resilience will help children deal with difficult situations and challenges. This resource teaches children about resilience and the steps they may need to take to achieve their goals.

Video: Lockdown productivity
A video about how to take care of your mental health, be productive and keep yourself motivated while under lockdown. It is aimed at KS3 but may be suitable with upper KS2, depending on the children you teach.
Tagged under: anna freud, mental health, covid 19, lockdown, Coronavirus, accidents, coping calendar, uncertainty, nurture uk, tic, happiful, hello yellow, dr radha
Was the information on this page helpful?