Online Safety - Key Stage 1&2
Tik Tok Safety
Child safety on TikTok: parent factsheet - Guidance about concerns on Tik Tok for parents.
Do you know what your children are doing online this summer?
What's almost certain is that they'll be going online more than in term time … for entertainment, keeping in contact and chatting with their mates, gaming and the multitude of other things kids use the internet for.
With all the additional time spent doing more online, how can you be sure that the young people in your family are safe from the issues they can encounter every day?
Check out these easy-to-follow tips to help your child enjoy a safe and confident experience online.
Chat regularly with your child about what they do online and get them to show you. Get to know about new technologies and trends. Talk about the potential negatives, like oversharing, seeing inappropriate content, cyberbullying, stranger danger, uncontrolled spending of money and spending too much time online. Set a good example yourself.
Steer your child towards safe searching, websites and apps. Check what they're watching and/or sharing on streaming sites like YouTube and TikTok. Encourage them to use child-friendly platforms like YouTube Kids.
Gaming, social media, picture/video sharing and many other apps and websites have lower age limits for a reason, so you should make sure your child doesn't access those for which they're underage.
Download apps only from recognised sources like App Store and Google Play. Add your own email address when setting up accounts and apps for your child.
Discuss and agree boundaries and rules from a young age, including appropriate online usage, always being respectful and how much time they spend online. Empower them, but remember they don't have the experience or maturity to always make the right decisions.
Consider setting up parental control software and apps on computers, mobile devices and games consoles, privacy features on social networking sites, safety options on search engines and safe location settings on devices and apps. Turn on your ISP's family filters.
Stay familiar with new game and social media trends, especially those attracting negative publicity because they may be violent, encourage gambling or leave the way open for messaging random strangers, enabling hence potential grooming or other types of coercion.
For video calls, ensure your child's safety by updating to the platform's latest version, following its safety advice and checking that call invitations and replies can't be seen by anybody outside the agreed call group.
Online gaming is widely recognised as having many developmental benefits for young people, but talk to them about potential negatives like chatting to strangers, in-game purchases (like loot boxes, skins and cheats), and overdoing screen time.
Talk to your child about misinformation, disinformation and fake news. Tell them not to believe or share everything they see or read, especially in these days of sponsored 'news' and AI-generated images, videos and text.
Warn your child about confidential information, personal details and images/video about themselves or others they share in posts, profiles, messages and chats. Consider what you share yourself.
Without being controlling, keep an eye on your child's online activities and know how to recognise the signs of something not being right. For example, criminals have exploited increased online use for recruiting children into illegal activities such as cybercrime and drug muling.
For more information, click here
Exciting new interactive online security resources for 7-11 year olds
Award-winning interactive online security resources for 7-11 year olds.
Young people are growing up in an increasingly digital world, exposing them to both the opportunities and risks of the internet. CyberSprinters empowers them to make smart decisions about staying secure online.
The digital game can be played on phone, tablet and desktop, and is supported by a suite of activities to be led by educational practitioners working with 7-11 year olds. Parents and carers can also try the CyberSprinter puzzles with their children at home!
Online Safety Calender
To download please click on the image
Cyberbulling Guidance - Cyberbullying: Understand, Prevent and Respond - Childnet International have teamed up with a range of experts and young people to create these resources and guidance.
NSPCC - Pokémon Go: A parent's guide - Tips and advice for keeping children safe on Pokémon Go
The UK Council for Child Internet Safety (UKCCIS)
UKCCIS is a group of more than 200 organisations drawn from across government, industry, law, academia and charities that work in partnership to help keep children safe online. Download the guidance by clicking on the logo.
New resource from Thinkuknow - Play Like Share - a three episode animated series and accompanying resource pack aims to help 8-10 year olds learn how to stay safe from sexual abuse, exploitation and other risks they might encounter online such as sharing content.
An online safety story for 3 to 7 year olds. Join in with Mummy Penguin's song and follow the adventures of Smartie the Penguin as he learns how to be safe on the internet. The story covers the following 3 themes;
- Pop ups and in app purchasing
- Inappropriate websites for older children
- Cyberbullying
Sextortion
Sextortion is a crime rapidly on the increase.
Also known as 'webcam blackmail', it refers to criminals deceiving webcam users into unclothing and performing sexual acts.
This footage is recorded and then used to blackmail victims for money.
It is an international, organised crime, making it difficult for the police to capture the criminals responsible.
Click here to view the PowerPoint
Click here to view the Lesson Plan template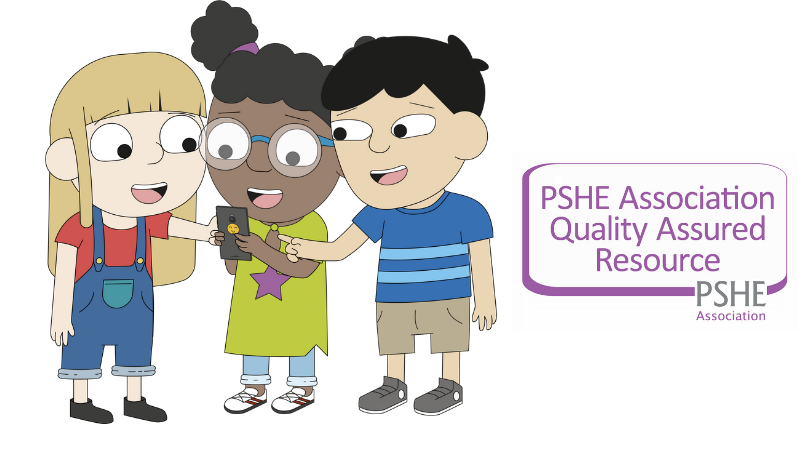 Give your 4-7 year olds the knowledge, skills and confidence to stay safe online with Jessie & Friends, a three-episode animated series and resource pack. You'll find lesson plans, storybooks and activities designed to be used across a range of settings. Jessie and Friends has been awarded the PSHE Association Quality Mark. Jessie & Friends follows the adventures of Jessie, Tia and Mo as they begin to navigate the online world. They learn that while the internet can be an exciting place where they can learn and have fun, sometimes they may encounter things online which make them feel worried, scared or sad.
The films are accompanied by a comprehensive resource pack for professionals, with session plans for each episode and guidance on safe and effective delivery. Also available are subtitled versions of the animations, storybooks, and posters for parents/carers and children.
.
Thinkuknow
Thinkuknowhave also produced two new presentations for parents and carers of primary and secondary aged children.
The primary presentation covers:
Children online
Live streaming
Gaming
What parents and carers can do
Thinkuknow resources for primary
Thinkuknow resources for parents and carers
Reporting to NCA-CEOP
The secondary presentation covers:
Young people online
Sexual exploration online
Sharing images
Sexual abuse online
What parents and carers can do
Thinkuknow resources for secondary
Thinkuknow resources for parents and carers
Reporting to NCA-CEOP
What is Social Media
Speak Out, Stay Safe
Childnet International
22/09/17 Childnet International - 'Trust Me' gains PSHE Accreditation Childnet's Trust Me Resource is now a PSHE accredited resource. It was created for teachers after the Childnet education team saw a need for a resource to start the conversations around extreme online content, as well as the need to develop young people's critical thinking skills.
31/10/17 Times Educational Supplement - 3 steps to keep pupils safe from harmful relationships online We are spending a lot of time being reactive in dealing with the aftermath of digital relationships going wrong. But what if we were to instead focus on preparing our young people for the digital world, and on empowering them to create and sustain positive relationships? Here are 3 steps to help achieve this:
Develop awareness
Nurture mental health and wellbeing
Develop a moral compass and strong values
To read further please click on the title above.

Life in 'Likes'
Life in 'Likes' children's commissioner report into social media use among 8-12 year olds.
Most social media platforms have a minimum age limit of 13, but research shows a growing number of children aged under 13 are using social media, with 3 in 4 children aged 10-12 having their own accounts.
While much is known about how teenagers use social media, this research provides the missing piece to the story, exploring the social media lives of children before they reach the teenage years. In October and November 2017, we conducted 8 focus groups with 32 children aged 8-12 to understand the impact of social media on the wellbeing of this age group. Click on the image to read the full report for Life in 'Likes' - Children's Commissioner 04/01/2018
Click here to view other publications from the Children's Commissioner

Google and Parent Zone's Free Internet Safety Programme for UK Primary Schools
Google and the family internet safety experts at Parent Zone recently launched the Be Internet Legends programme for Key Stage 2 primary school students to help them be safe and confident explorers of the online world.
Last year, Google asked more than 200 teachers in the UK about their experience with online safety in the classroom. Most of the teachers they spoke to said they didn't feel they had the necessary resources to teach online safety to pupils. And, 99% of them felt that online safety should be part of the curriculum.
https://parentzone.org.uk/legendshome
If you are a Key Stage 2 teacher and would like to order a FREE curriculum pack or express interest in one of the limited-availability Be Internet Legends assemblies, visit the legends hub or email legends@parentzone.org.uk for more information.
Do you know if being called 'salty' online is a good thing? Do you know about ghost mode and parental controls? Our popular O2 NSPCC Parents vs Kids quiz has now launched online and is available to play across mobile, tablet and desktop platforms. Get the whole family together and play the quiz to see who knows the most about the digital world, and learn a bit more about staying safe online. Take on 50 new questions and test your knowledge by playing 1 on 1 or in teams! Who really knows more about the online world in your home? Team Parent, or Team Kid?
If you'd like more online safety advice, you can always get in touch with the O2 NSPCC Online Safety Advice Line on 0800 800 5002. You can find more information by visiting Net Aware or the NSPCC's online safety section of the NSPCC website.


UK Safer Internet Centre is a partnership of three leading charities, Childnet International, Internet Watch Foundation and SWGfL, with a mission to make the internet a better place for children and young people. It coordinates Safer Internet Day across the UK and provides support with online safety issues via a helpline to professionals working with children and young people. The centre has produced a range of education packs covering all year groups to help schools promote internet safety.
https://educateagainsthate.com/resources/uk-safer-internet-centre/
Jessie and Friends - helping 4-7 year olds stay safe online
The website is based on the three-episode Jessie & Friends animated series, which aims to equip 4-7 year olds with the knowledge, skills and confidence they need to stay safer online. It is intended to be used by 4-7 year olds alongside their parents and carers, or within education settings as a learning tool.
The new interactive website encourages 4-7s to engage safely online by helping them to recognise worrying, upsetting or scary situations and reinforcing the key message that they should 'Tell A Grown Up' in these instances.
The guide aims to support parents and carers in navigating the website alongside their child. It provides information on the background and purpose of the website, in addition to information about each of the games and conversation starters to use with children. The guide is available for you to download and share with parent and carer networks within your setting.
Tagged under: online safety, sexual exploitation, hate crime, Key Stage 1, Key Stage 2, cyber bullying, bullying, trust me, Key Stage 3, calendar, minimum age, social media, YouTube, Twitter, Facebook, Messenger, e
Was the information on this page helpful?