Trusted Adult
Young people have improved mental health and wellbeing as a result of positive relationships with adults in their community. Supportive adults keep young people safe and let them know that they have somewhere to turn to when needed.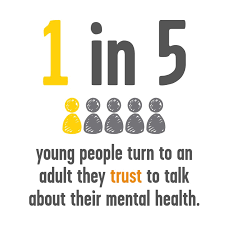 Clearly set out boundaries
Young people have reported that they like it when adults set out the boundaries of their relationship early on. You're not there to be their best friend, or their parents, and they might not have had many trusted adults in their lives, so they need you to set the boundaries for the relationship. What can you help a young person with, when and where can they contact you and what will you do if you can't help them directly? Keeping consistent with your boundaries helps young people feel safe and know that you will treat them fairly.
Take a genuine interest
Have a genuine interest in who a young person is as a person, as well as their wellbeing. Listen to what they say to you, ask them about things they are interested in and remember what they say. Following up on what they've said shows that you have listened and you care.
Remember their name and pronouns
Take your time to learn young people's names and their pronouns, and use them. This helps young people feel seen and heard.
Give honest compliments
When you see a young person doing something positive – such as helping a friend, behaving well during your session, looking out for someone else – compliment them for it.
Grow your own emotional literacy and share it!
Reflect on your own emotional literacy. How many emotions can you name? How does anger feel different to frustration? Share this with the young person.
Keep checking in
Don't be offended if today they don't want to spend time with you or speak to you - a 'No' to chatting today is not always a 'No' tomorrow. Try again another time, especially if you've noticed a change in a young person's behaviour.
Be fully present
When spending time with your young person, be fully present with them and give them your full attention. Remember, you are the asset to this young person.

Where you can, actively listen to young people without interruption. Be open, honest and real. This can be asking them something interesting about themselves or sharing something about yourself.
Think about culture
Consider both youth culture and a young person's cultural background. What do you know about the things that are influencing the way they understand the world? This could be big societal factors, like race or religion, or smaller things, such as pressure to do well at school or attitudes within their friendship groups. Listening to your young people is a great way to understand more about what is going on for them and the factors that are impacting their lives.
Keep it regular
Give some time to talking as part of each session – timetable it in so they know that time is there.
Achieve something new together
Depending on your context, trying out something new together can create space to talk about mental health as well as build a positive sense of achievement.

Try a new move in your sports club. Tackle a new piece of music in your class. Or if you have the chance, paint a room or get outside and climb a hill!

Boost a young person's confidence by trying something new or challenging. Shared experiences can really help to build rapport and relationships. It can also be easier for young people to talk about their feelings when they are doing other activities.
Tips for setting boundaries
Start with your own boundaries Take some time to know your own boundaries first. When are you really available? Set the boundaries early on in your relationship, rather than when you find your boundaries being pushed.
Give time to clearly and gently set out your availability, especially if you think that it is different from your young person's expectations. It's kinder to be clear from the outset. Make sure to also repeat your availability because it's easy to forget

Stick to the boundaries you set

Make sure to keep to your boundaries once you've set them - consistency is crucial in creating trust and understanding.

Tagged under: TEAA, Trusted Emotional Available Adult,