Online Safety - Key Stage 1&2
Guidance, Resources and Articles
Online Safety Calender - to download please click on the image below:
Cyberbulling Guidance - Cyberbullying: Understand, Prevent and Respond - Childnet International have teamed up with a range of experts and young people to create these resources and guidance.
NSPCC - Pokémon Go: A parent's guide - Tips and advice for keeping children safe on Pokémon Go
The UK Council for Child Internet Safety (UKCCIS) is a group of more than 200 organisations drawn from across government, industry, law, academia and charities that work in partnership to help keep children safe online. Download the guidance by clicking on the logo.
New resource from Thinkuknow - Play Like Share - a three episode animated series and accompanying resource pack aims to help 8-10 year olds learn how to stay safe from sexual abuse, exploitation and other risks they might encounter online such as sharing content.
The Adventures of Smartie The Penguin An online safety story for 3 to 7 year olds. Join in with Mummy Penguin's song and follow the adventures of Smartie the Penguin as he learns how to be safe on the internet. The story covers the following 3 themes;
- Pop ups and in app purchasing
- Inappropriate websites for older children
- Cyberbullying
Sextortion
Sextortion is a crime rapidly on the increase.
Also known as 'webcam blackmail', it refers to criminals deceiving webcam users into unclothing and performing sexual acts.
This footage is recorded and then used to blackmail victims for money.
It is an international, organised crime, making it difficult for the police to capture the criminals responsible.
Click here to view the PowerPoint
Click here to view the Lesson Plan template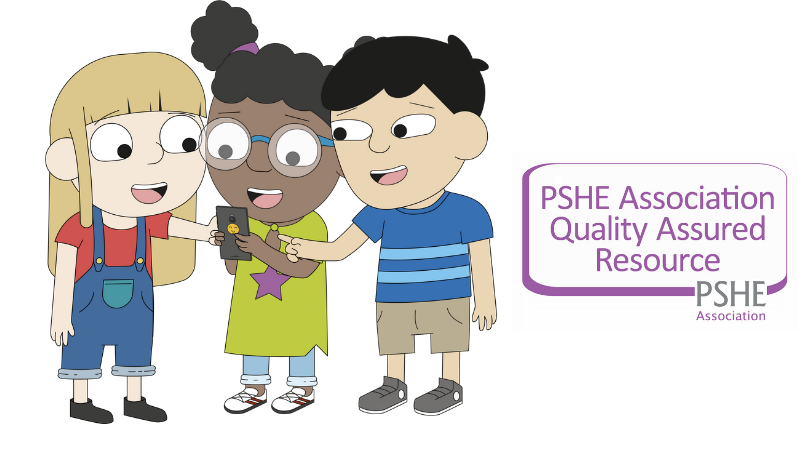 KS1 Jessie and Friends - Online safety education for 4-7's .
Give your 4-7 year olds the knowledge, skills and confidence to stay safe online with Jessie & Friends, a three-episode animated series and resource pack. You'll find lesson plans, storybooks and activities designed to be used across a range of settings. Jessie and Friends has been awarded the PSHE Association Quality Mark. Jessie & Friends follows the adventures of Jessie, Tia and Mo as they begin to navigate the online world. They learn that while the internet can be an exciting place where they can learn and have fun, sometimes they may encounter things online which make them feel worried, scared or sad.
The films are accompanied by a comprehensive resource pack for professionals, with session plans for each episode and guidance on safe and effective delivery. Also available are subtitled versions of the animations, storybooks, and posters for parents/carers and children.
Thinkuknow have also produced two new presentations for parents and carers of primary and secondary aged children.
The primary presentation covers:
Children online
Live streaming
Gaming
What parents and carers can do
Thinkuknow resources for primary
Thinkuknow resources for parents and carers
Reporting to NCA-CEOP
The secondary presentation covers:
Young people online
Sexual exploration online
Sharing images
Sexual abuse online
What parents and carers can do
Thinkuknow resources for secondary
Thinkuknow resources for parents and carers
Reporting to NCA-CEOP
How to use the presentations
Use the presentations and videos when you deliver sessions with parents and carers to help them understand the behaviour of children and young people online, the resources they can use to support their child online, and the role of NCA-CEOP.
ThinkuKnow website for parents and carers which provides further advice on how parents can keep their child safe.
Free to download for all schools
Additional information for parents and carers about the Jessie & Friends resources can be found at www.thinkuknow.co.uk/parents/jessie-and-friends.
July 2016- BBC News - Social Media harms moral development parents say
Just over half of 1,700 people with children aged 11-17 strongly agreed that social media hinders or undermines moral development. Furthermore, of those questioned, only 15% thought sites such Facebook had a positive influence on a young person's character, and as many as 60% said they had seen anger and hostility on social media sites!
July 2017- BBC News - UK plans age verification for porn websites from 2018
An NSPCC report in 2016 said online pornography could damage a child's development and decision-making. 28% stumbled across porn while browsing, while 19% searched for it deliberately. The government is to announce that people in the UK will have to prove they are 18 before being allowed to access pornography websites from 2018. Sites will be required to install age verification controls that ask for users to provide credit card details, similar to gambling websites. Companies breaking the rules face being blocked by their internet services provider.
Speak Out, Stay Safe
Articles
22/09/17 Childnet International - 'Trust Me' gains PSHE Accreditation Childnet's Trust Me Resource is now a PSHE accredited resource. It was created for teachers after the Childnet education team saw a need for a resource to start the conversations around extreme online content, as well as the need to develop young people's critical thinking skills.
31/10/17 Times Educational Supplement - 3 steps to keep pupils safe from harmful relationships online We are spending a lot of time being reactive in dealing with the aftermath of digital relationships going wrong. But what if we were to instead focus on preparing our young people for the digital world, and on empowering them to create and sustain positive relationships? Here are 3 steps to help achieve this:
Develop awareness
Nurture mental health and wellbeing
Develop a moral compass and strong values
To read further please click on the title above.
Life in 'Likes'
Life in 'Likes' children's commissioner report into social media use among 8-12 year olds.
Most social media platforms have a minimum age limit of 13, but research shows a growing number of children aged under 13 are using social media, with 3 in 4 children aged 10-12 having their own accounts.
While much is known about how teenagers use social media, this research provides the missing piece to the story, exploring the social media lives of children before they reach the teenage years. In October and November 2017, we conducted 8 focus groups with 32 children aged 8-12 to understand the impact of social media on the wellbeing of this age group. Click on the image to read the full report for Life in 'Likes' - Children's Commissioner 04/01/2018
Click here to view other publications from the Children's Commissioner
Google and Parent Zone's Free Internet Safety Programme for UK Primary Schools

Google and the family internet safety experts at Parent Zone recently launched the Be Internet Legends programme for Key Stage 2 primary school students to help them be safe and confident explorers of the online world.
Last year, Google asked more than 200 teachers in the UK about their experience with online safety in the classroom. Most of the teachers they spoke to said they didn't feel they had the necessary resources to teach online safety to pupils. And, 99% of them felt that online safety should be part of the curriculum.
https://schoolsimprovement.net/google-and-parent-zones-free-internet-safety-programme-for-uk-primary-schools/
https://parentzone.org.uk/legendshome
If you are a Key Stage 2 teacher and would like to order a FREE curriculum pack or express interest in one of the limited-availability Be Internet Legends assemblies, visit the legends hub.
Or email legends@parentzone.org.uk for more information.
Do you know if being called 'salty' online is a good thing? Do you know about ghost mode and parental controls? Our popular O2 NSPCC Parents vs Kids quiz has now launched online and is available to play across mobile, tablet and desktop platforms. Get the whole family together and play the quiz to see who knows the most about the digital world, and learn a bit more about staying safe online. Take on 50 new questions and test your knowledge by playing 1 on 1 or in teams! Who really knows more about the online world in your home? Team Parent, or Team Kid?
If you'd like more online safety advice, you can always get in touch with the O2 NSPCC Online Safety Advice Line on 0800 800 5002. You can find more information by visiting Net Aware or the NSPCC's online safety section of the NSPCC website.


UK Safer Internet Centre
UK Safer Internet Centre is a partnership of three leading charities, Childnet International, Internet Watch Foundation and SWGfL, with a mission to make the internet a better place for children and young people. It coordinates Safer Internet Day across the UK and provides support with online safety issues via a helpline to professionals working with children and young people. The centre has produced a range of education packs covering all year groups to help schools promote internet safety.
https://educateagainsthate.com/resources/uk-safer-internet-centre/
Tagged under: online safety, sexual exploitation, hate crime, Key Stage 1, Key Stage 2, cyber bullying, bullying, trust me, Key Stage 3, calendar, minimum age, social media, YouTube, Twitter, Facebook, Messenger, e safety, cyber, internet safety, parent zone, be internet legends, sextortion, sexual coercion, blackmail, Jessie and friends nspcc, LGBT, online safety
Was the information on this page helpful?