Taking CARE To Promote Mental Health in Schools and Colleges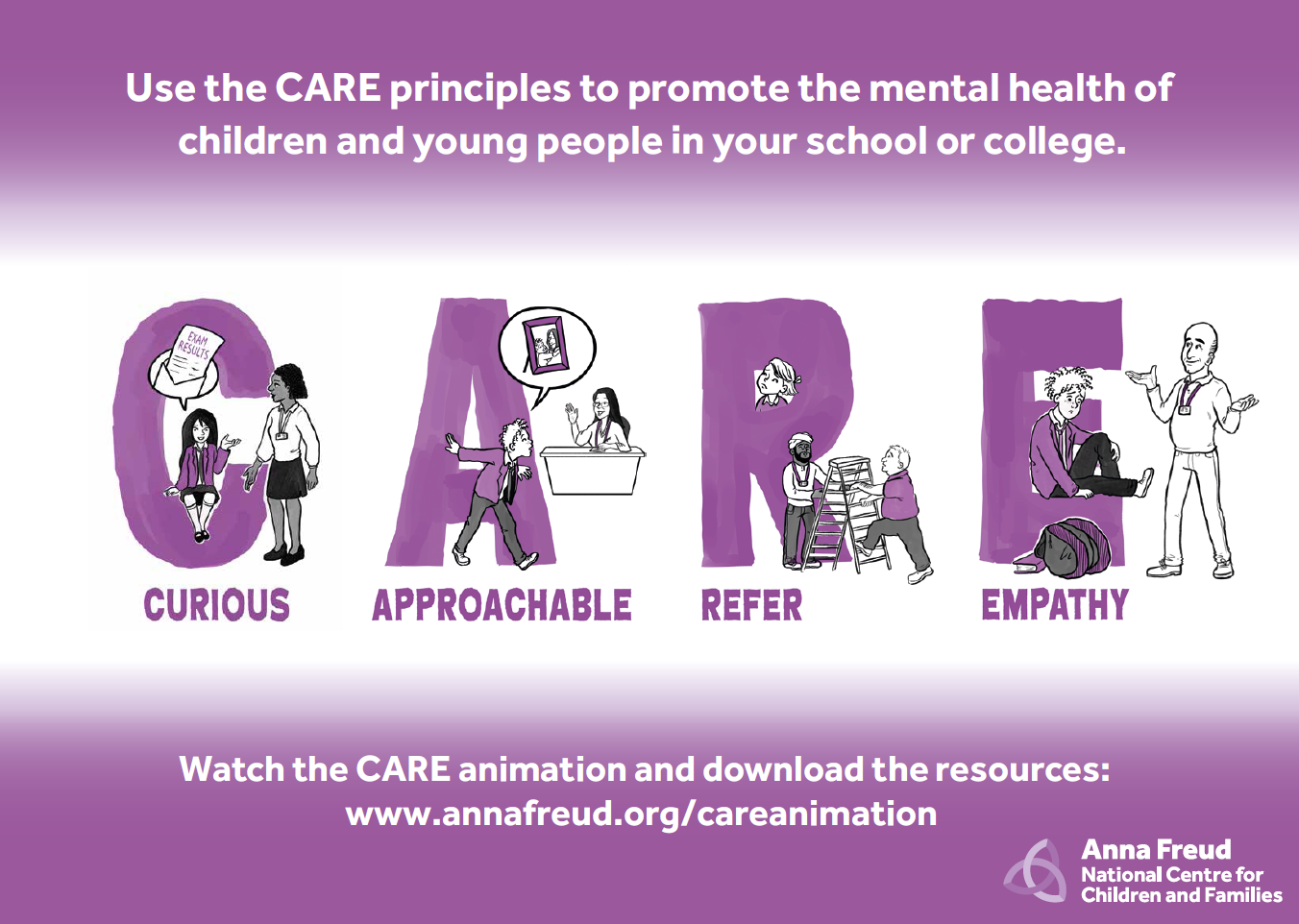 The CARE animation is a short animation for all school and college staff that recognises the importance of supporting children and young people's mental health in schools and colleges, and offers a simple principle for staff to remember; CARE. (Curious, Approachable, Refer, Empathy). Click image for link (24/01/20)
The Suicide Prevention Pocket Guidebook
We're writing to let you know about a new suicide prevention guidebook which has been written by our CEO, Joy Hibbins. Most booksellers including Waterstones and WH Smith are selling the book: links to buy the book are later in this email.
The Suicide Prevention Pocket Guidebook: How To Support Someone Who Is Having Suicidal Feelings focuses on how to support a friend, family member or colleague who is having suicidal thoughts. The book will also be helpful to professionals who encounter people in crisis in their work.
The book provides advice, skills and strategies to support someone in a suicidal crisis, and help them to survive.
Pre-publication comments include:
"I regularly hear from carers, friends and family that they feel ill-equipped to support their loved ones in their times of need and this book will fill this important gap by offering skills and understanding that can be applied widely."
Dr Deborah Dover, Deputy Medical Director, Consultant Psychiatrist and Suicide Prevention Lead at Barnet, Enfield and Haringey (London) Mental Health NHS Trust
"The generosity of Joy's knowledge and wisdom is so apparent and the gentle way in which it is shared ensures that no-one who reads this book will ever need to feel that they don't know what to do when their loved one or friend is needing support for suicidal thoughts. Joy captures answers to all of the questions most people probably don't even know they have, and there is an abundance of learning here that is readily and easily usable for both family, friends, colleagues or professionals working with people experiencing distress. Her respect and compassion for people in suicidal crisis is most telling. A fantastic contribution to international suicide prevention resources."
Sonja Eriksen, Trauma and Suicide Prevention Specialist, New Zealand
Joy's author royalties from sales of the book are being paid directly by the publisher to our charity, so that the charity Suicide Crisis benefits from sales of the book, rather than the author.
Some booksellers have the book on special offer for anyone pre-ordering the book now (such as here at WH Smith):
The Suicide Prevention Pocketbook: How to Support Someone Who is Having Suicidal Feelings by Joy Hibbins | WHSmith
You can also pre-order it now from Amazon (paperback or Kindle):
https://www.amazon.co.uk/Suicide-Prevention-Pocket-Guidebook-Suicidal/dp/1789562996
Employers wishing to buy several copies of the book for their staff can receive substantial reductions in the cost of the book. Please contact us for more details:
Tim Miles
Communications
Suicide Crisis
Website: www.suicidecrisis.co.uk
Suicide Crisis is a registered charity which runs a Suicide Crisis Centre and a Trauma Centre.
We have been providing services for eight years and have never had a suicide of a client under our care.
Suicide Crisis is a registered charity (charity no. 1170444).
Registered as a charity in England and Wales.
Suicide Crisis, P.O. Box 1344, Cheltenham. GL50 9FP.
Facebook: http://www.facebook.com/SuicideCrisisCentre
Twitter: @Suicide Crisis