Social Prescribing
Social Prescribing supports people to develop relationships and connect people to relevant activities for their health and wellbeing. Individuals or local agencies can refer people to the service to meet with a dedicated professional who will focus on what matters to the individual, taking a holistic approach to health and wellbeing.
Social prescribing works for a wide range of people, including people:
with one or more long-term conditions
who need support with their mental health and wellbeing
who are lonely or isolated
who have complex social needs which affect their wellbeing.
NHS Gloucestershire and Gloucestershire County Council have co-commissioned a service called the Community Wellbeing Service, which offers social prescribing. There are five providers covering the county:
Forest of Dean, Newent and Staunton - Forest of Dean District Council
Stroud and Berkley Vale - Independence Trust
Tewkesbury and Cheltenham - Caring for Communities and People
North and South Cotswolds - Gloucestershire Rural Community Council
Gloucester City - Home Group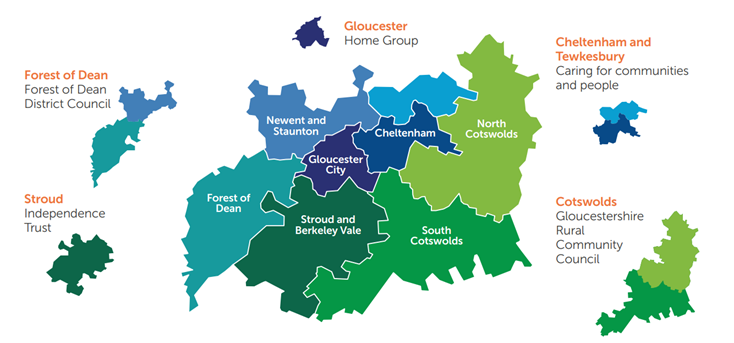 The Community Wellbeing Service (CWS) connects people to community groups and statutory services for practical and emotional support. The service also helps people to start new community groups, as well as supporting existing community groups to be accessible and sustainable. The Community Wellbeing Service has a strong and close working relationship across the voluntary and community sector in Gloucestershire, acting as a pathway to participation for residents to get involved in their community and develop meaningful social connections.
Who the service supports
Individuals with non-medical needs, which may be impacting on health and wellbeing such as stress, social isolation and loneliness, worry about debt, housing issues or managing a long-term health condition.
Individuals who want to be linked to community opportunities in order to become more active, join community groups or volunteer.
How to refer
Referrals are open from community and primary care including self-referrals, health and social care practitioners, emergency services, VCSE sector, family and friends.
Check with an individual if they want to be referred.
Contact the service in the area of the person you are referring by phone or email.
Anyone aged 16+ yrs living in Gloucestershire or registered with a Gloucestershire GP.
What the service offers
Different levels of support according to need, including:
Signposting to local community provision; and
One-to-one support using a coaching approach to wellbeing.