Our Mission
Our vision is for young people to enter adulthood having a responsible understanding of alcohol and its short and long term effects. We engage children of all abilities and backgrounds before they begin drinking, helping them build resilience skills, know how to avoid and resist risky situations and to look after themselves and each other in a variety of settings. Read more…
Parents
Many parents feel lost and confused when talking to their children about alcohol. How can you help them deal with peer pressure and stay safe? What UK laws exist relating to young people and alcohol. View the Parent Area
Teachers
Make PSHE and science lessons on alcohol informative and engaging. We provide evaluated, evidence based, imaginative teachers' newsletter and adaptable resources, films, worksheets and lesson plans for KS3-5. View the Teacher Area
Chris Donovan Trust
AET is delighted to receive the Alcohol Awareness for Young People award (2018) from the Chris Donovan Trust.
The trust was set up by Vi and Ray Donovan who, in 2001, experienced the tragic loss of their son Chris through unprovoked violence. Using their own experience, they want to help educate people about the impact of crime on the victim, their family and wider society.
'When we first heard of the Alcohol Education Trust, the first thing we did was to check them out and we were amazed by the alcohol educating work they are doing with young people in schools.
Click here to visit the Chris Donovan Trust website
http://alcoholeducationtrust.org/
Talk about Alcohol
The below link takes you to four short films (7 mins each) of young people talking about their experiences with alcohol. Students then have the opportunity to rate alternative outcomes for each experience and think about what they would have done differently. https://www.talkaboutalcohol.com/just-a-few-drinks/
Information booklets for both students (year 10+) and parents/ carers
Safer choices – film and poster competition winners
we would really like to thank the young people, schools and organisations that sent in such wonderful entries to our competition asking 15-19 year olds to produce a poster or film on alcohol awareness topics and how to stay safe around alcohol. Choosing the overall winners and runners-up was very difficult.
View the two winning films:
Remember https://youtu.be/hc4gP4dG420
Prince's Trust https://youtu.be/JO2QtFETN6U
Alcohol Awareness Week 15-21 November 2021
Our resources are designed for busy teachers and youth professionals and enable the delivery of high-quality and effective alcohol education lessons and activities with minimal planning and preparation requirements.
• The Talk About Alcohol workbook is fully mapped to DfE requirements and contains 100 pages of ready to deliver PowerPoints with full guidance, lesson plans, games and activities (organised by topic and year group). You can download a copy via
Download Teacher Workbook - Alcohol Education Trust
Mandatory health education in all schools by September 2020
We are pleased to learn that the government is committing to mandatory health education in all schools. This is excellent news and real progress in terms of PSHE becoming a statutory subject.
Under the proposals, all pupils will study compulsory health education as well as new reformed Relationships Education in primary school and Relationships and Sex Education in secondary school.
The guidance which was last updated in 2000, will become compulsory in all schools across the county from September 2020. Click here to read more on the Government commitment
Café Office and community space for youth charity on The Great Field, Poundbury.
We're thrilled to announce that The Alcohol Education Trust (AET) will be building a community space, café and office on the Great Field at Poundbury in 2019.
For the last ten years, the AET have operated out of a garden garage in Frampton. This has been excellent in that overheads have been tiny, enabling the AET to spend very high proportions of every penny raised on its work across the UK. Over the last decade, the AET has supported over 1000 schools, youth and sports clubs and ½ million children EACH year with its training, resources and regionally based experts free of charge – at a cost of under 50p a child.
2019 is the 10th Anniversary of the Alcohol Education Trust and the charity has been given the wonderful opportunity to build a café, community/training space and office in a park setting in an area with 33% social housing. It is the second most deprived area in West Dorset, yet few would guess that this was Poundbury.
Click here to read the full article
Ready prepared lessons for pupils with SEND
We are thrilled to have fully updated our SEN resources into 4 PowerPoint lesson plans and guidance using emojis, pictures and stories. You can download these resources here. Although expertly designed for children with moderate learning needs, you may choose to use these lessons for the whole class. The topics cover feelings and emotions, consent as well as foundation learning. The lessons can work independently or be used in conjunction with our activity boxes which are full of resources. Thanks to wonderful grant funding we are able to support schools and alternative settings with a high number of SEN children with these lessons and resources free of charge.
Although fully piloted, we are also looking for schools to volunteer to give detailed feedback and evaluation. To find out more, or to order an accompanying activity box, please email kate@alcoholeducationtrust.org
National Drug and Alcohol Conference 2021
On 28th June The Alcohol Education Trust and The DSM Foundation co-hosted the third Alcohol and Drug Education Conference.
You can read ta summary of the proceedings ad access the speaks PowerPoint presentations here Drug and Alcohol Education Conference June 2021 | Alcohol Education Trust
Order resources now for September delivery
We are able to offer the following resources free of charge to most schools and some organisations:
Teacher Workbook (100 pages of lesson plans, games and activities organized by top and year group) Download Teacher Workbook - Alcohol Education Trust
'Alcohol and You' guide for young people including top tips and advice on staying safe around alcohol pdf (alcoholeducationtrust.org)
'Talking to Kids' parent guide including helpful advice and information on tops including units, guidelines, the effects of alcohol and the law pdf (alcoholeducationtrust.org)
Activity box including laminated activity cards and the BAFTA winning 'Just a few drinks' films. Thanks to grant funding, this is free of charge for those working with children who are looked after or have additional learning needs.
Six fully planned lessons including accompanying PoerPoints. These lessons help ensure high-quality, effective alcohol education lessons with minimal planning requirements Download Lesson PLans | Alcohol Education Trust
Four fully planned lessons including PowerPoints especially designed for pupils with SEN Picture and story led activities | Alcohol Education Trust
Lessons for age 16+ looking at cannabis and alcohol
talkaboutalcohol.com is a pupil-facing online learning zone including fun and engaging activities and games such as online nightclub. The site allows pupils to learn to make safe choices around alcohol in a very pupil-friendly way.
To order paper copies of any of the above resources or to arrange a teacher training/ parent talk, please contact kate@alcoholeducationtrust.org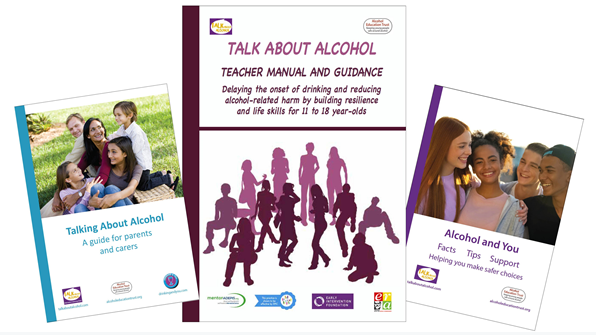 Talk about alcohol
Teacher workbook and lesson plans
https://alcoholeducationtrust.org/teacher-area/overview-core-resources/
Tagged under: Chris Donovan Trust, alcohol, SEND, SEN, emotions, drugs, conference, film, poster, competition, safer choices, workbook, lesson plans, SEN, awareness
Was the information on this page helpful?